"Just not enough good men" - Brolly on Mayo
August 11, 2019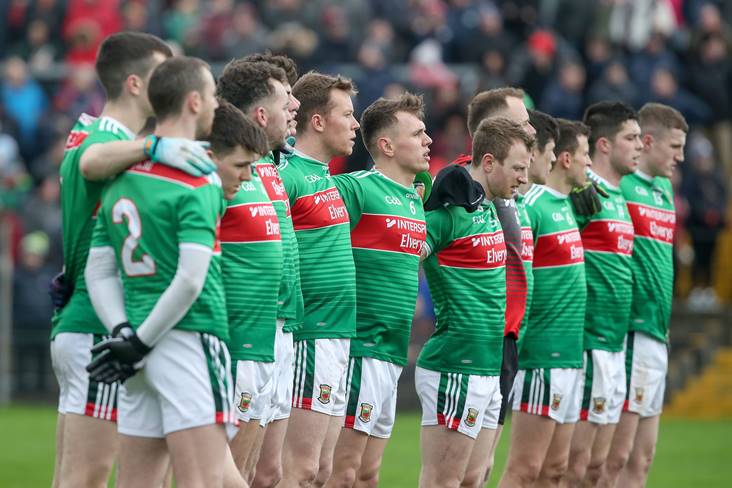 Mayo players stand for the national anthem. ©INPHO/Bryan Keane.
Joe Brolly says Mayo had enough good players but not "enough good men" to win an All-Ireland title.
Writing in his column for The Sunday Independent, the man who once called Mayo 'celebrity losers' dished out a bit more criticism after they went down to Dublin by 10 points in yesterday's All-Ireland SFC semi-final at Croke Park.
"It must be said that Mayo's surrender was total and abject. No doubt, the players will be meeting in the clubrooms somewhere in the county over the next few weeks to write James Horan's resignation letter. Tactically, they had nothing. Strategically they had nothing," the former Derry forward wrote.
"They will, however, find the excuses to absolve themselves from blame: We were late getting to the changing room because Mass ran on too long (this was one of the excuses they wrote down for getting rid of Pat Holmes and Noel Connelly).
"There wasn't enough spring water on the bus and the bananas were a little off. I wasn't allowed to do a TV ad. Rochford wouldn't pick my clubmate.
"The problem with them is, and always has been, that the culture in the group – with some honourable exceptions – is wrong. They have celebrated mediocrity and many of them have put themselves before group and the good of the county. It is a pity, because they had enough good players to win an All-Ireland. Just not enough good men."
Most Read Stories