Brolly predicts Dubs will destroy Mayo
March 13, 2018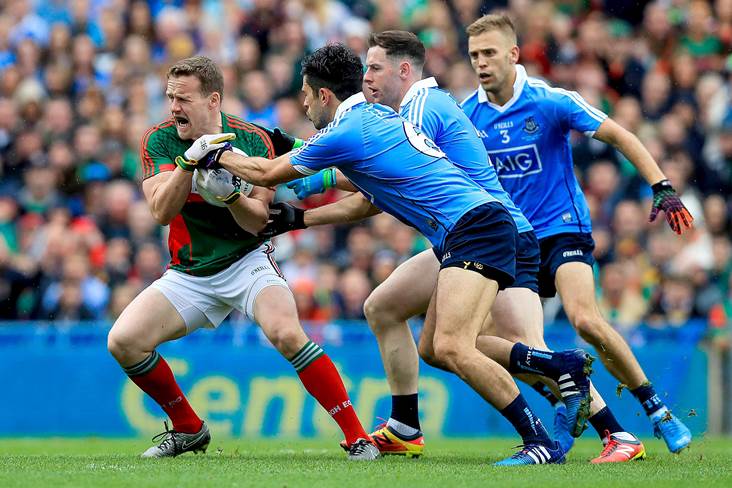 Mayo's Andy Moran with Philly McMahon and Cian O'Sullivan of Dublin.
©INPHO/Donall Farmer.
Joe Brolly believes it's only a matter of time before Dublin thrash Mayo in a big game at Croke Park.
Jim Gavin's all-conquering side have barely scraped past the westerners in the last two All-Ireland finals, as well as the 2013 decider, but renowned analyst Brolly reckons it's inevitable that the confident, fearless Dubs - who he tips to win five Sam Maguires in a row - hand them a trimming:
"Kerry shouldn't be sending up their minor team to play the Dubs. It prompts the thought that, Mayo, it's amazing how close they have been able to stay to Dublin over five / six years when no one else has been able to, save for the famous Jim McGuinness ambush in 2014," the Derryman told The Throw-In podcast.
"I keep trying to figure out why it is that Mayo are able to stay so close to them; obviously the fact that they play man-to-man, the fact that they're prepared to kick the ball quickly to their inside forwards and their inside-forward movement is very good … those factors are important.
"But you've gotta start thinking that there's gonna come a day very, very soon when Dublin cut loose in Croke Park in one of these big games against Mayo and destroy them because we've seen how overwhelming they are, their offensive armoury, the way they defend and - more than anything else - their efficiency.
"I don't know what you would have to do [to beat them]. Maybe if the squad was afflicted with a severe bout of diarrhoea or influenza on the verge of a game but, medical emergency aside, it's difficult so see how anyone can cope with them."
Most Read Stories