Quinn favours 'B' football championship
September 09, 2018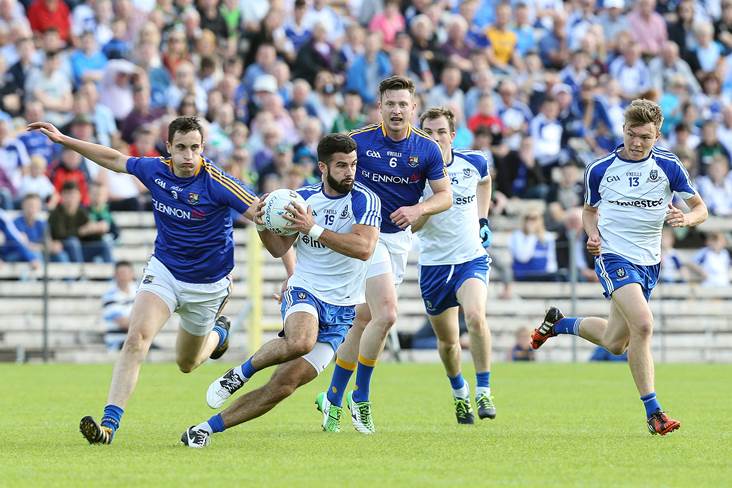 Monaghan's Neil McAdam with Darren Gallagher and Mickey Quinn of Longford.
©INPHO/Presseye/Andrew Paton.
Longford's Mickey Quinn is in favour of a second tier football championship.
While many of the so-called weaker counties are against the idea, Quinn believes a 'B' championship would provide them with more games and would help them improve to a level where they could compete for the Sam Maguire.
"Counties and players are afraid of change. The most disappointing thing for ourselves was three championship games this year, same last year. There's no continuity from year to year. You can't see progression from two or three games," the former AFL star said on RTÉ's Sunday Sport.
"You want to be playing more games. And if that means playing in a second tier competition where you can actually say 'yes, we've improved, we've won that second tier competition, now we're up and challenging in that top tier.'
"That's why there's so much emphasis on the league. If you're promoted in the league, you're setting yourself up for the next year, you're creating momentum for the championship and that's what you want.
"I'd be in favour of a second tier championship. I don't think I'll see it in my time. Personally, it's more games, I want to play more games. Tyrone had 10 games, Dublin had eight. I had three games.
"They're as good a players in the top tiers right down to the bottom."
Most Read Stories