Ladies: Ryan McMenamin embracing challenge of facing Ladies club football 'royalty'
November 18, 2017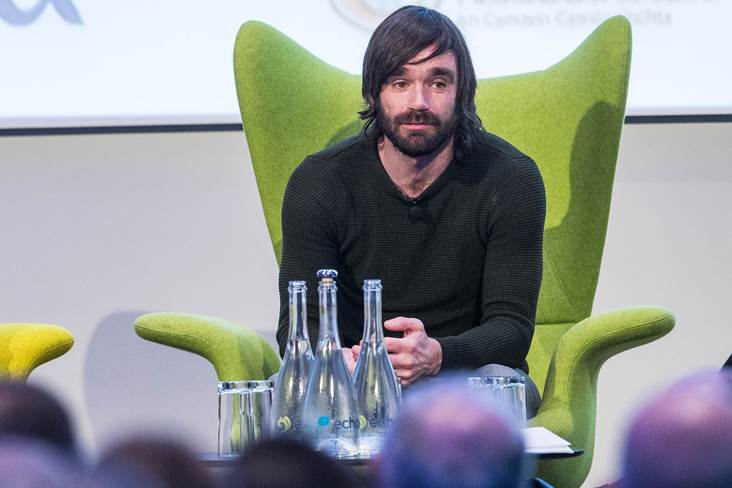 Former Tyrone footballer Ryan McMenamin.
By Jackie Cahill
What started as a helping hand has developed into a quest for All-Ireland ladies senior club glory for ex-Tyrone star Ryan McMenamin.
Three years ago, he linked up with St Macartan's in a part-time coaching capacity - and now he's managing the team.
His wife, Maura (nee Kelly) is one of the key players for St Mac's, who recently won a very first Ulster senior crown.
In Augher tomorrow (SAT), and with a massive crowd expected, St Mac's take the next step, as Cora Staunton and Carnacon provide All-Ireland semi-final opposition.
McMenamin is relishing the prospect: "As I said to the girls, we've probably met the 'royalty' of Ladies Football over the last 20 years, Donaghmoyne and Carnacon.
"They've always been up there and have been great ambassadors for the sport as well.
"They're all big names, household names. There's Fiona McHale, Martha Carter, Amy Dowling.
"It's going to be tough but that's what you get whenever you win Ulster, you're going to meet the best of the best. We're going to give it a rattle."
Last year, St Mac's lost out to Donaghmoyne by nine points in the provincial decider but 12 months on, they turned the tables to win by two, with a powerful first half display paving the way for victory.
It's clear that St Mac's learned the lessons of 2016, and McMenamin agrees: "We hadn't been in a final for seven years, we had a very young team and the girls learned a lot from it.
"The girls at the time thought it would be a long way to get back but we made a promise that we'd try our best to get back.
"We knew it wasn't going to be easy but we were lucky enough we did.
"For our younger players, it was an experience they loved last year.
"They're really enjoying playing these games and they'll really enjoy playing against the likes of Cora Staunton."
In September, McMenamin was confirmed as a member of Rory Gallagher's key backroom men with the Fermanagh's men's team.
It's a challenge he's looking forward to but for now, the St Mac's quest for All-Ireland silverware is dominating his thoughts.
McMenamin admits: "I was surprised in fairness (to get the call), but he (Gallagher) had heard probably about Macartan's and the work we were doing there.
"He's been very supportive, he says 'you've taken them before you were with Fermanagh, give your effort to them until it's over.'"
The St Mac's journey could end tomorrow - or there could be a final to look forward to on December 3.
And McMenamin reflects: "You don't know, it's a big day and maybe if you'd been winning a third or fourth Ulster, it could be a bit handier but it's the first time they've won it.
"We're probably lucky that it's a short turnaround and they mightn't think about it but I'm getting a sense that they're ready and well up for it.
"They know themselves it's going to be a massive task against Carnacon, it's going to be a big one.
"You have to know the challenges ahead and it's going to be a completely different game than the Ulster final, because usually in Ulster, you have a fair gauge on players, you know or see players that you know.
"Going to All-Ireland level, it's something we haven't dealt with.
"When you're a player, all you're worried about is getting to training and doing the training, listen to what the manager has to say.
"One of the biggest aspects I find when doing all the work behind the scenes is trying to get the training right, chatting to Conor (McCarroll) and Chris (Kelly), that's the biggest thing.
"You're planning before the game and outside the game as well.
"It's a big thing, trying to make sure everything runs right for training, making sure the physios are there on time and that any girls with knocks are getting sorted.
"As a player, you turn up and look forward to the game but as a manager, you have to hands-on looking at everything. That's probably the biggest difference."
Most Read Stories