"This is not Irish dancing" - Hogan reflects on red card
August 21, 2019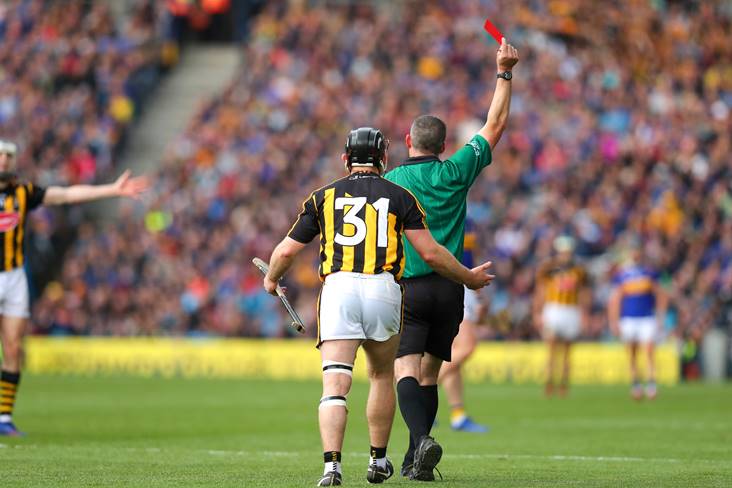 Kilkenny's Richie Hogan receives a red card from referee James Owens. ©INPHO/Ryan Byrne.
Richie Hogan has broken his silence on his sending-off in last Sunday's All-Ireland SHC final defeat to Tipperary.
Speaking to 'Off The Ball' last night, the Cats ace exonerated referee James Owens of any "blame" but strongly disputed the Wexford official's call which was the main talking point after the final whistle.
"It's not an easy game to referee, so I wouldn't be pointing any blame at James Owens, Cathal Barrett or anyone. It's just a difficult situation.
"Hurling is an incredibly difficult game to referee. There's a set of rules there but it's hard to make up rules to fit the actual game. They spoke about your arm not being down by your side. This is not Irish dancing.
"We have hurleys in our hands, how do we hold a 36-inch hurley without bending your arm?"
Hogan was shocked when Owens produced the red card...
"The first thing I thought was to get back and get after the ball. Then when I turned around and saw him on the ground I thought, 'It's a free'.
"I was complaining about getting a yellow card, because it was one of those clearly accidental, honest challenges.
"I watched it back a couple of times. My elbow doesn't connect with his face, my shoulder does. My elbow doesn't connect with him at all."
The Danesfort clubman, who has been plagued with injury in recent years, doesn't want the controversial red card to be note on which he finishes his illustrious inter-county career.
"I'll sit down and think about it. If we had won on Sunday it would have been a nice way to sign off. I'll do whatever I can to play another year. Nobody wants to finish their career like that. The decision is made already. I owe it to myself."
Most Read Stories