"If a fella ties his lace, are we going to stop the game?"
February 27, 2018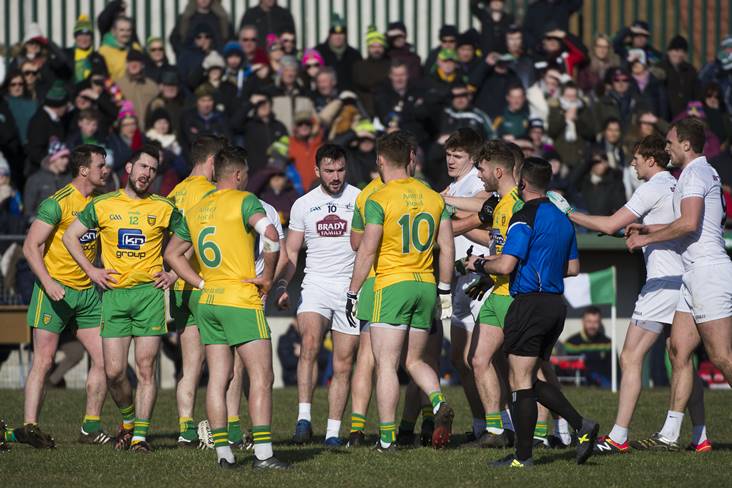 Referee David Gough speaks to Donegal and Kildare players.
©INPHO/Evan Logan.
Referees are (obviously) not expected to stop play so that a player can leave the field to fit a gum shield.
Kildare manager Cian O'Neill appeared to be clutching at straws when he suggested on Sunday that referee David Gough should have stopped play "to let everyone know, no more than a blood sub or a black card" whart was transpiring while Lilywhites captain Eoin Doyle was heading to the sideline to replace the mouth guard that had earlier been knocked out in a collision with an opponent.
Rather than leave the pitch, Doyle turned back to gather a goalkick from Mark Donnellan and was sent off for a second yellow-card offence in the 15th minute. Gough had already warned the player to replace his shield and O'Neill was livid with his decision to send him off.
However, Games Administration and National Match Officials Manager Pat Doherty backs the Meath official's actions and points out that there was no reason to stop the game:
"With normal injuries the games carry on unless it's a head injury when we would be advising referees to stop the play. If a fella ties his lace are we going to stop the game?" he asks The Irish Independent.
"Apart from the jersey, it's the only piece of gear that a player has to wear, according to rule. We don't have players going out on the field to play hurling matches without helmets."
Most Read Stories