O'Rourke takes sheen off Galway's win in Tralee
February 26, 2018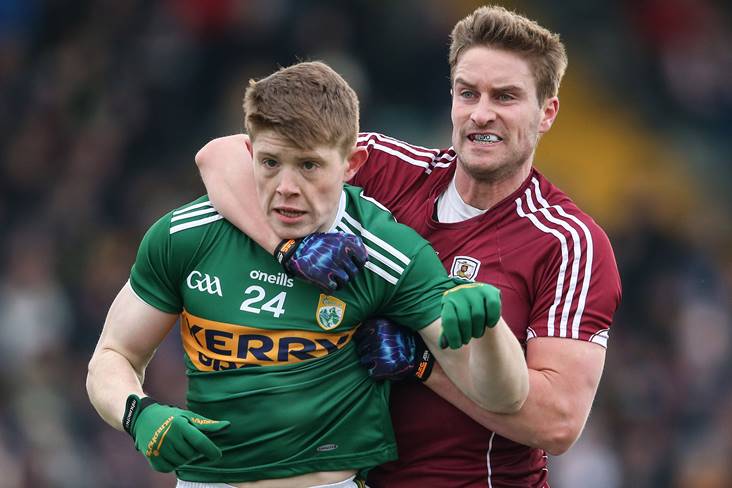 Kerry's Brian O Seanachain and Gary O'Donnell of Galway tussle.
©INPHO/Cathal Noonan.
Colm O'Rourke reckons Galway have "turned a bit ugly" since Paddy Tally joined their coaching staff.
The Tribesmen have taken to Division 1 football like a duck to water by winning their first four games, with yesterday's victory over Kerry in Tralee being the most eye-catching so far.
But speaking on RTÉ's League Sunday last night, Meath legend O'Rourke claimed Galway's impressive results have come at the expense of their traditional attacking game.
"We always associate, in the past, Galway with free-flowing, attacking football. Some of the greater footballers of the game have played in Galway attacks," he said.
"They've turned a bit ugly, I think with their type of system now. Paddy Tally has been brought in from Tyrone. It is a Tyrone defensive-type system."
"But you (presenter Michael Lyster) as a Galway man, which would you take, the defensive football and winning or the free-flowing football and losing? A lot of Galway people would say that, 'We're quite happy with the way we are. We're going to Kerry and we're beating them. We're beating Mayo'.
"They have scope for significant improvement because as this system develops, they have a lot of very good individual footballers."
Most Read Stories