Fitzgerald: club-only month "a disaster" for us
April 20, 2018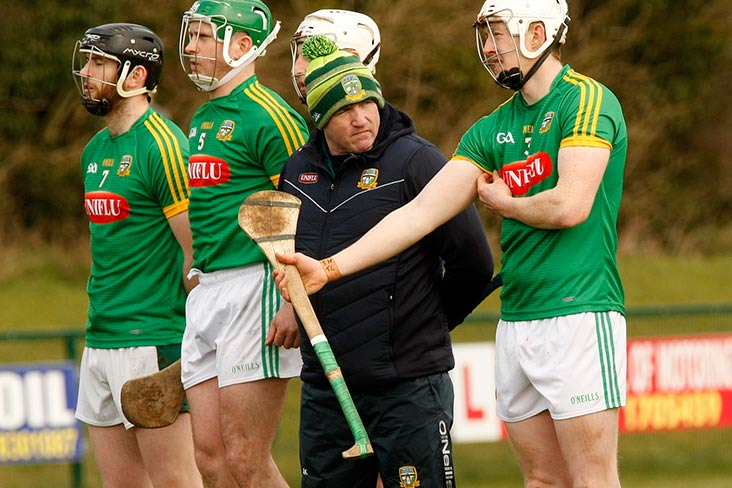 Meath hurling manager Nick Fitzgerald with Shane Brennan, Joey Keena and Damien Healy
The Meath hurlers have trained just once as a group in the last three weeks because of their involvement in club football championship games.
Most of Nick Fitzgerald's squad will be in championship action with their football clubs once again this weekend, leaving little time for the Royal County hurling manager to prepare his team for their Joe McDonagh Cup opener against Antrim on Saturday, May 5.
"It's a disaster for us," Fitzgerald said of the GAA's decision to make April a club-only month in the Irish News.
"I have seen my players, collectively, once in the last 20 days and we were training (on Wednesday night) and I didn't have half my panel there. We have a football programme that runs Thursday to Tuesday, so I won't have my panel back together next Wednesday.
"There is a lack of time and lack of preparation. You're trying to win as many games as you can in the National League and trying to get to a final. You then go into April and you lose your players. You lose momentum and intensity. Players go back to their clubs and, with the greatest respect, it can't be the same.
"The second concern is obviously the risk of injury. And my last concern, come the 5th of May, we have four or five players who are below par and we lose to Antrim.
"And people will say: 'Ah sure he's not fit', and 'he's not sharp'... If we're as sharp as we can be and fit as we can be and we get beaten by Antrim, hands up. But if we have a few players who are flat because of a lack of hurling, because of training between hurling and football, that's a big issue for me."
Most Read Stories