Opinion: why club only April is not working
April 12, 2019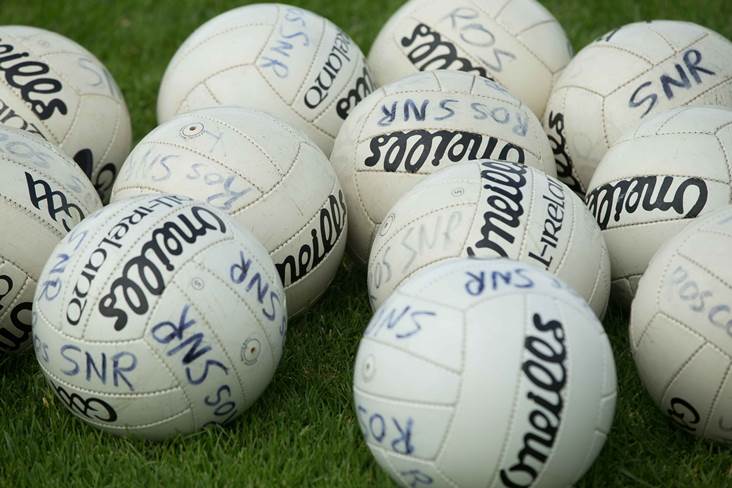 Footballs at the ready ©INPHO/Morgan Treacy
by Stephen Reilly
As we head into the second weekend of April, already there have been issues raised by clubs in a number of counties over the availability of players during this period.
Croke Park came up with the idea of April being a club only month which means county boards were free to begin their championships or schedule games as they saw fit.
This is the second year of April being a 'club-only' month and the situation doesn't seem to have improved since last year.
Last weekend saw county championships start in some counties and in the lead up to these games, it seems that a number of county teams have continued to train even though clubs are supposed to have first call on their players at this time.
Let's look at both sides of the picture and from a club point of view county boards have decided to play two or three rounds of the championship throughout April.
Clubs train hard to get off to a good start in their respective championships, but once this month is out of the way, it all then depends on when their county's hurlers or footballers are finished their respective campaigns as to when the club championships resume.
This at the very minimum is a six-week break and last year we had situations where the break was almost three times that of six weeks with Kilkenny clubs going 17-weeks between games.
Basically, clubs must prepare for two seasons within the one. They start training in early January, getting prepared for the start of the championship and then face into a lengthy lay off where hopefully league games keep their competitive run going.
There is a growing trend of club players heading off for the summer and who can blame them as they can go for the majority of the summer, come back and not have missed any championship action.
For counties that do not start their championship, they try to play their leagues and other competitions before this, which is arguably the best solution to a problem that doesn't look to be solved anytime soon.
On the other side of the situation, we have county managements receiving criticism and being told there is a lack of respect for clubs.
You have to look at it from their point of view too. Let's be honest here, county teams are training from well before Christmas, players are called upon four and five nights a week and more in some cases. They do their early season work and then into the league, but once that concludes they have been told not to train for the month of April, even though the majority of counties will begin their respective championships in May.
So, why would a county manager not try to sneak in a 'session or two' during this month. Some have eased off, while others are going as strong as ever.
The GAA season needs to be looked at again, simple as that. What Croke Park have tried to achieve has not worked that is plain to see.
Is there a solution to this problem? No matter what idea is thrown up there will be detractors, but there could be one way to appease the masses.
That is to scrap April being a club-only month. Bring forward the provincial championships to begin in early April meaning counties have a break of a maximum of three weeks from the end of the league to the start of the provincial campaigns.
Condensing the provincial All-Ireland series would be more logical too, especially in football. Take the Munster SFC which begins on Saturday May 11th and concludes on Saturday, June 22nd, yet there are only five games to decide the champions. Why such a long wait?
Television will be blamed for the scheduling for some of the games, but more games could be played on Saturdays and Sundays without TV stations losing out.
Starting the provincial championships earlier and condensing the championships (football in particular as stated) would result in the All-Ireland finals being brought forward to the end of July or early August at the latest.
Then attention could be placed on the club scene and indeed bring the club championships forward as has been touted in recent times.
Something needs to be done as April being a club-only month simply isn't working.
Most Read Stories