Recovering Attride "avoided significant damage to a great degree"
June 14, 2018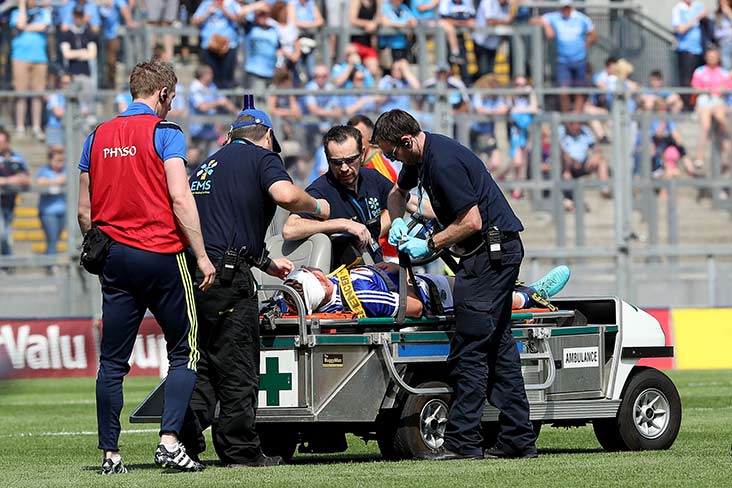 Laois' Stephen Attride is stretchered off injured during the Leinster SFC semi final clash with Carlow at Croke Park
Laois manager John Surgue says recovering captain Stephen Attride will not be rushed back into action for the O'Moore men.
Attride suffered a fractured skull after clashing with an opponent during last Sunday's Leinster SFC semi-final victory over Carlow at Croke Park and while his injuries are serious, he's expected to make a full recovery in due time.
Speaking on his skipper at the Laois media night ahead of the provincial final against Dublin on Sunday week, Surgue commented: "Stephen's sore. He's sore and tired, has headaches but he is good. He is home and is resting. And in the grand sense he avoided significant damage to a great degree. He's got two fractures in his skull but nothing inside of (the skull). He has very serious soft tissue (damage) outside of that. But once it doesn't go inside (the skull) I think everyone is happier.
"It's not your average sporting injury, for sure. The concussion and fractures in the skull will take time to settle down, but both should hopefully work out once he's given the time."
He added: "Stephen is a proper footballer. He doesn't baulk from hard work or tough stuff and he can play a bit of ball as well. So he's definitely a loss, but that's sport.
"There's no point taking risks with this fella. Laois will need him in the future so there's no point in gambling short term to lose him long term."
Most Read Stories