Mayo GAA sever ties with millionaire O'Leary
February 25, 2020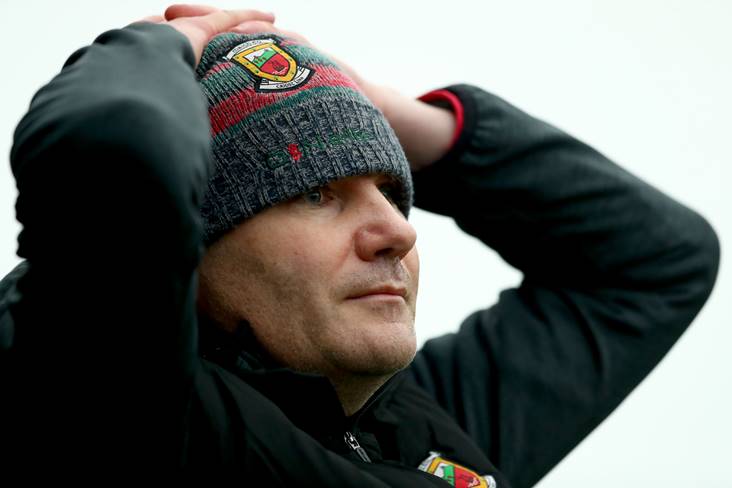 Mayo manager James Horan reacts. ©INPHO/James Crombie.
Mayo GAA say their association with millionaire backer Tim O'Leary "has been ceased".
On Sunday, the financier of the Mayo Supporters Foundation tweeted "#Horanout We are not very good #TruthHurts always" following Mayo's nine-point defeat to Monaghan. He subsequently deleted the tweet and apologised for his outburst yesterday, attributing the call for James Horan's head to "a few too many pints" and promising to "keep my mouth shut going forward".
However, Mayo GAA chiefs held an emergency County Board meeting last night and decided to sever all ties with O'Leary, releasing the following statement:
"The Mayo GAA Executive can this evening confirm that we have ceased all dialogue with Mr. Tim O'Leary. Although relations were strained for a number of months, a way forward was agreed in January and it was hoped that both parties would be able to work together for the betterment of Mayo GAA, this however is now not the case.
"The club delegates of Mayo GAA have mandated agreed behaviours based on mutual respect, the exclusion of animosity and the inappropriate use of communication channels such as social media.
"Mayo GAA will not engage with stakeholders whose behaviours deviate from what has been mandated by our clubs and in light of recent social media comments made by Mr. O' Leary engagement has now ceased.
"Mayo GAA will be making no further public comment on this matter."
Most Read Stories