B FL Div 3: St Michaels on top in Rathkenny
July 11, 2018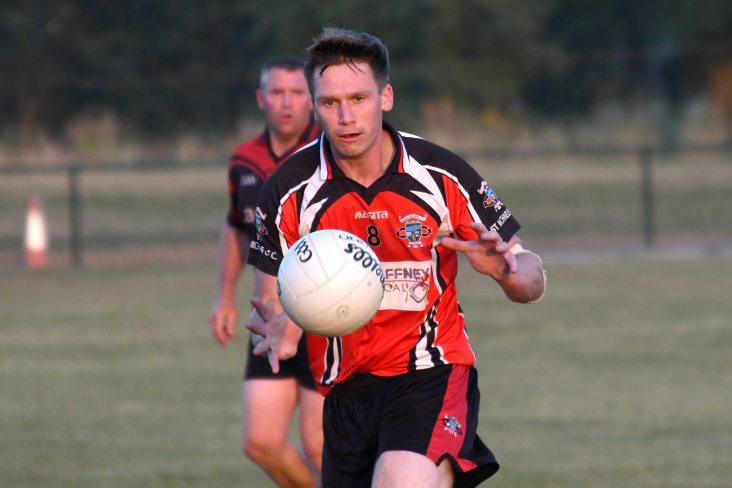 Mark Stafford St. Michaels
St. Michaels 0-11  Rathkenny 1-05     
St. Michaels leap frogged their opponents to the top of division 3 following this tough encounter in the excellently upgraded grounds in Rathkenny last evening.
While St. Michaels looked the better side throughout and always held the lead over their opponents, the home side did provide some anxious moments especially in the second half and their cause was not helped when losing a player to a second yellow on 48 minutes.
The winners top scorer Kevin Cassidy got his side off the mark with a pointed free in the opening minute, the home side did likewise two minutes later, however they had to wait until the 22nd minute for their next score, meanwhile points from Cassidy (2), Paddy Clarke (2) and Ben Reilly (1) gave St. Michaels a 0-6 to 0-2 interval lead.
Rathkenny made several changes at the interval and came out with all guns blazing with Donal Curtis firing home a rasping shot to the back of the St. Michaels net 40 seconds after the restart. To their credit the St. Michaels lads never panicked and Mark Stafford split the post from play and Tobin and substitute Ben Farrell combined well to send over a point apiece. Rathkenny replied with two of their own before they were reduced to 14 on 48 minutes. Kevin Cassidy benefited from a deft flick of the ball over an opponent by Tobin  to fire over from 20m, Cassidy returned the favour two minutes later as he found Tobin in loads of space and he chipped over his sides final score of the match. St. Michaels played well as a unit, moving the ball well but Rathkenny proved to be a handful right up to the long whistle and had several chances to reduce the deficit but failed to deliver the scores.
St. Michaels: Gavan Sweeney; Harry Dunne, Paddy Callaghan, Scott Doyle; Thomas O'Brien, Daithí O'Reilly, Adam O'Brien; Alex Farrell, Mark Stafford (0-1); Ben Reilly (0-1), Paddy Clarke (0-2), Rory O'Driscoll; Paddy Tobin (0-2), Dean Moran, Kevin Cassidy (0-4). Subs: Ben Farrell (0-1)  for Moran 35 minutes, John Hand for A. Farrell 40 minutes.                                                                                                                                                                                           
Referee: Keith Sheerin.
Report and photo Pascal Reilly PRO.
Most Read Stories