Quinn was unable to take part in historic shootout
January 16, 2018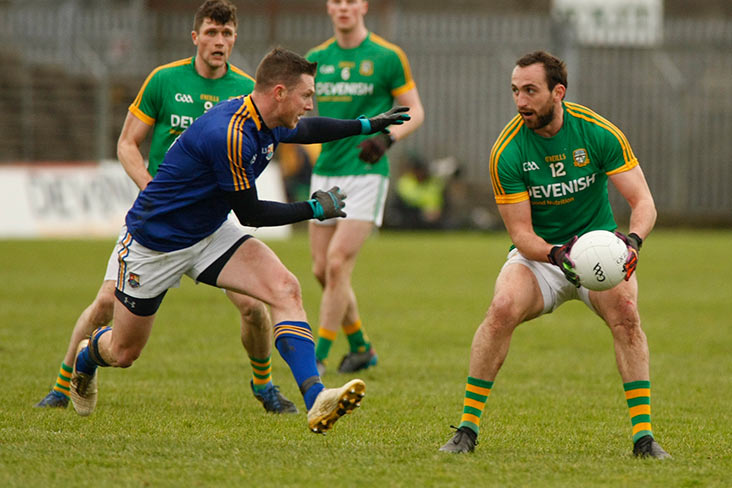 Longford's Michael Quinn closes in on Graham Reilly Meath during the O'Byrne Cup semi final at Pairc Tailteann.
Longford ace Michael Quinn has confirmed that he wasn't able to participate in Sunday's historic O'Byrne Cup shootout against Meath.
The Eire Og Killoe clubman notched a last-gasp 1-1 at the end of extra time to force the first-ever intercounty free-taking competition but wasn't one of the five Longford players who subsequently came forward to hit 45-metre frees in the Navan murk.
The former Essendon bomber told The Irish Daily Star that he had cramp and was concerned about the prospect of injuring himself: "I wasn't able to take one. If I had to take one I thought I would have done more damage than good. I was cramping up towards the end of the game and to hit a ball from 45 metres out...
"I'm not sure about 45s. The idea of playing 90 minutes of football and trying to lash a few balls over the bar afterwards...
"It's like lads coming out in a warm-up and kicking from 45 metres out straight away. You're looking at them wondering 'what's going to happen here?'
"Just for the sake of being different to soccer, do they not want to have a penalty shootout? I think it would work fine."
Most Read Stories