'Their system of play is death to a half forward'
May 20, 2018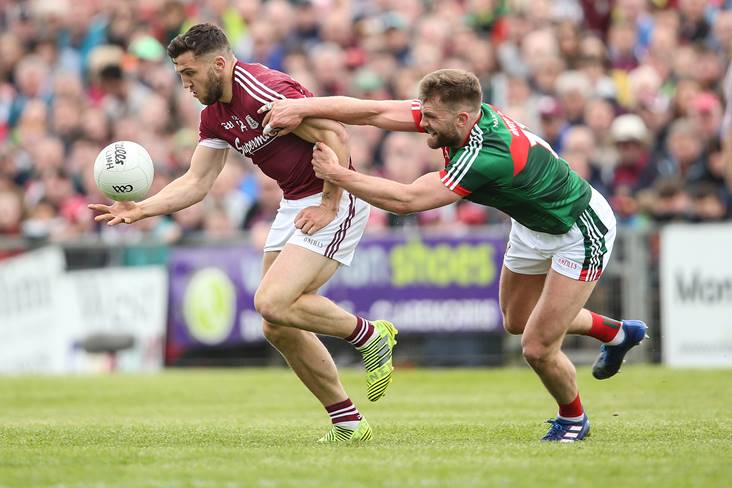 Mayo's Aidan O'Shea tackles Damien Comer of Galway.
©INPHO/Cathal Noonan.
Paul Galvin says he would hate to be a half forward playing on the Mayo team.
After watching Mayo's Connacht SFC quarter-final defeat to Galway last Sunday, the former Kerry star has come to the conclusion that Mayo's style of play is making their half forward line obsolete.
"If there is one team in Ireland I wouldn't want to play on it's this Mayo side," he wrote in The Sunday Times.
"Their system of play is death to a half forward, or an inside forward for that matter. So many times last Sunday Mayo defenders were ahead of the ball, killing my space forward players should be operating in.
"As a half forward who loved playing in the pockets along the '45, I simply wouldn't thrive in this Mayo team. Too many bodies occupying the spaces I'd need to be taking up.
"There's something unnaturally frustrating about getting a ball in a championship game and not being able to hit a pass or execute what you see in your head. You can deal with that happening a few times or even for a few games, but over time if you're repeatedly blocked up, caught up, short of options, playing sideways, seeing opportunities but not being able to execute for congestion or lack of awareness, it gets irritating.
"Developing their forward play is a big problem for Mayo. If their backs stayed out of the way they would make things easier for themselves and have a chance of progressing. At the moment, it's hard, physical work just watching them trying to get out of their own way."
Most Read Stories