Sadness in Galway football circles following Tommy Varden's passing
April 25, 2018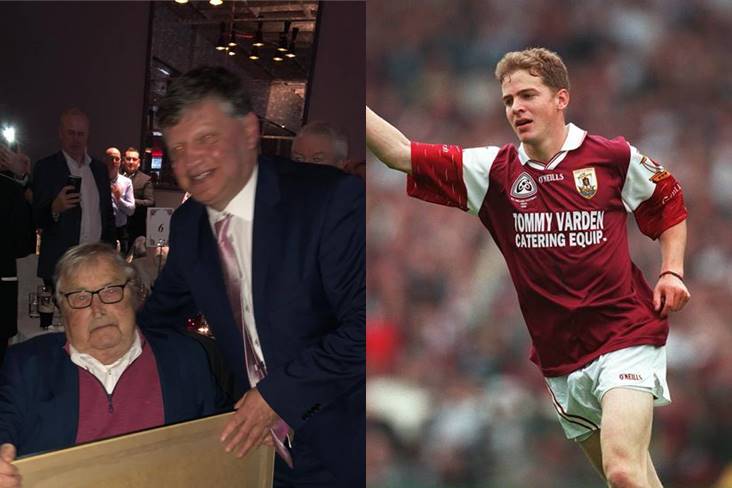 John O'Mahony presents Tommy Varden (RIP) with a signed 1998 Galway jersey at the 20-year commemoration dinner of the county's All-Ireland success and right, Michael Donnellan in the 1998 jersey sponsored by Tommy's company 'Tommy Varden Catering Equipment'.
Galway football has lost one of its biggest supporters with the death of Tommy Varden at the age of 79 last night.
The name of Tommy Varden Catering Equipment was emblazoned across the jersey as sponsor when the Tribesmen captured Sam Maguire Cup honours in 1998 and 2001.
Less than two weeks ago he was presented with a signed jersey in recognition of his contribution to those successes at a 20-year commemoration of the 1998 victory.
As chairman of the Development Advocates for Tuam Stadium, Tommy was also a driving force behind the redevelopment of the Stadium in recent years.
DAFTS paid tribute in a statement: "It is with the deepest regret that we relay the passing of our magnificent leader and Chairperson TOMMY VARDEN. R. I. P.
"He was the driving force behind our group and provided extraordinary and inspiring leadership. His contribution to Galway GAA was immeasurable.
"We extend our sympathy and our sincere condolences to his family at this sad time."
Most Read Stories