McKenna Cup here to stay
November 13, 2018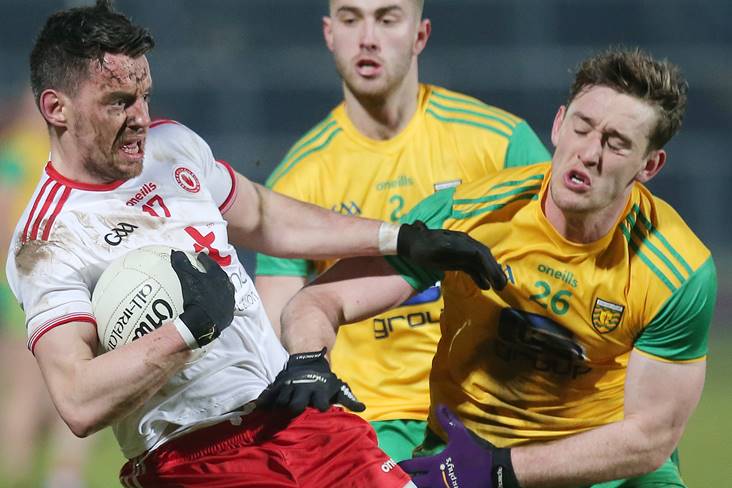 Tyrone's Matthew Donnelly holds off Hugh McFadden of Donegal during their side's Dr McKenna Cup final clash at the Athletic Grounds.
©INPHO/Jonathan Porter.
Ulster Council feels that the much-maligned McKenna Cup "serves a good purpose".
While questions have been raised over the value of continuing with the pre-season intercounty competitions in all four provinces, Ulster Council secretary Brian McAvoy is adamant that the Dr McKenna Cup is not going anywhere.
"I sit on the national CCC and there hasn't been any discussions about getting rid of the pre-season competitions at the national fixtures committee. It hasn't been a topic at all at CCC," the Down man told The Irish News.
"The McKenna Cup is very well supported for a pre-season competition. Counties would be looking challenge games in January anyway, and in Ulster I know the colleges - all three of them - value it as preparation ahead of Sigerson.
"It serves a good purpose and I have certainly detected no movement within Ulster to do away with it. There may be one or two voices barking in the wind but within the province of Ulster they're in a very small minority.
"I don't think anybody calling for a blanket ban on what is a very popular competition is really looking at the bigger picture. It's just a knee-jerk reaction – I don't think they're really thinking it through."
The 2019 Dr McKenna Cup is provisionally scheduled to commence on the weekend of December 28/29.
Most Read Stories