Disillusioned Tompkins calls for rule changes
March 02, 2018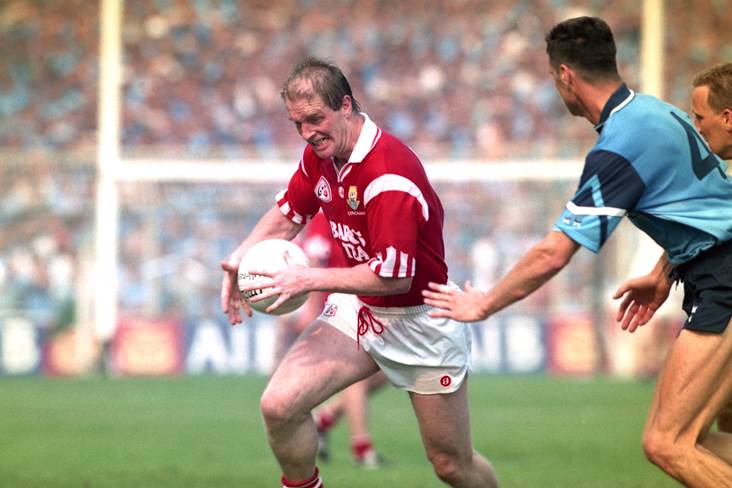 Cork's Larry Tompkins against Dublin.
©INPHO/James Meehan.
Cork legend Larry Tompkins says rule changes are urgently needed to stop Gaelic football from becoming unwatchable.
The former All-Ireland winning captain believes the sport is being destroyed by defensive tactics and is calling for the introduction of a rule that would see all kick-outs cross the 45-metre line. He also wants to see back-passing to goalkeepers outlawed, frees taken from the ground and the black card rule scrapped, while he is in favour of a rule that would see all six forwards stay in their own half. 
"Do we want to watch football or do we want to watch machines? That's what it comes down to for me," Tompkins is quoted as saying in the Irish Daily Mail.
"I find it very difficult to watch now. Bar Kerry and Dublin, and Mayo at times, who play a nice brand of football, it's gone terrible to watch. I don't know who is sitting around the table looking at the rules but it's plain to see that football is being destroyed.
"It's got to a point where football is a hugely tactical game with teams that bore all the people watching to tears. With the exception of the semi-finals or final, it's largely that way now.
"We have the sports pub and loads of people, fierce GAA people, would hardly ask you to turn on the TV for a Gaelic football game any more. It's different in hurling, they still love to watch that.
"Those trends are changing in front of us. People say the crowds are still there and that's probably true of counties like Mayo and Kildare who have great support and are crying out for their teams to win something.
"I genuinely think a lot of people are turning away from football. It doesn't have the battles and the confrontation that you had before. People will tell me, 'You're only jealous that you're not still playing'. That's not it at all. Football wasn't meant to be about 14 players behind the ball, short kick-outs and endless hand-passing."
Most Read Stories