Tipperary seek law change as fallout continues from Forde and Fitzgerald incident
December 20, 2017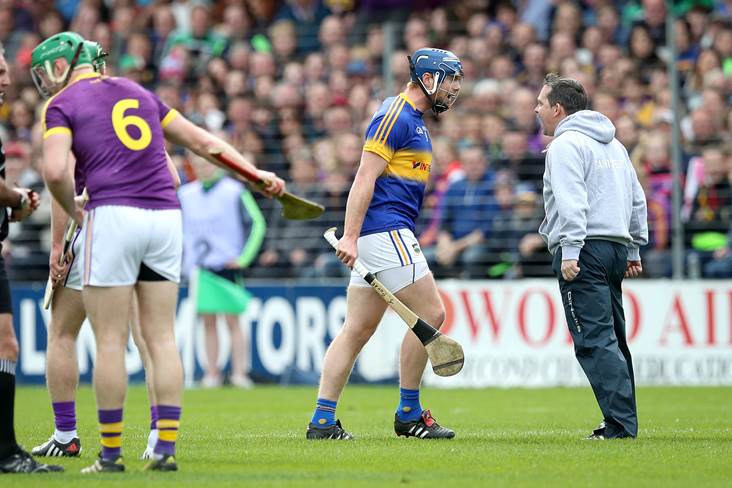 Wexford manager Davy Fitzgerald clashes with Jason Forde of Tipperary.
©INPHO/Ryan Byrne.
by Declan Rooney
The fallout from the Davy Fitzgerald and Jason Forde incident during Tipperary's league clash with Wexford looks set to continue into 2018 with the Premier County proposing a law change to deal with such rows.
Tipperary GAA secretary Tim Floyd will have his say at the 2018 GAA Congress after his motion aiming to define a melee was passed at the county's convention over the weekend.
Floyd tabled the motion through his club, Newport, based on the difficult Floyd had experienced dealing with the GAA disciplinary system when representing Tipperary hurler Forde over the summer.
Forde was first landed with a two-game ban for assaulting an opposition mentor following his on-field clash with Wexford manager Fitzgerald, but after the charge was struck out on appeal, the lesser charge of 'contributing to a melee' was handed to the Silvermines club man.
Fitzgerald was handed an eight-week touchline for his part in the clash during April's league quarter-final between Tipperary and Wexford at Wexford Park, but was permitted to be involved from the stands.
At Forde's Central Appeals Committee hearing, Floyd argued the definition of a melee, and speaking to delegates during the Tipperary convention he said it was his opinion that a definition of two or more players was 'made up on the spot'.
"It is as a result of the hearing that we had in Croke Park this year in relation to Jason Forde disciplinary decision. I just felt we were hard done by saying that he contributed to a melee," said Floyd.
"We asked how many was involved in a melee and they said at least two. That suited them on that occasions. We want it defined.
"You are wasting your time going to Croke Park or going anywhere for hearings if they make it up on the spot that a melee is more than two people. I don't think that's acceptable and that's the reason we put in the motion."
There was some opposition to the motion and Tipperary referee coordinator, Jim O'Shea, voiced concerns about how the proposed rule change would be policed.
"I have been approached by several referees who have a problem with the wording of this. If it defined as five the fear is there that you won't be able to act if there is only four involved," said O'Shea.
Despite O'Shea's concerns the motion was overwhelming supported by club delegates and it will now be put to Congress. Floyd welcomed the support of the clubs.
"I'm happy that the motion was supported," he said. "It doesn't define it in the rule book and for GAA purposes I feel it should be stated. At least if there was a number on it, say five or more.
"I was told at the hearing that anything more than two was a melee, which I find very hard to believe. It makes a bit of a joke of it.
"We have also amended the motion to say that a melee includes persons and not just players, so it will take in anyone that's at a match.
"We can have more than players involved in melees as we all know".
Most Read Stories