'I haven't met him since'
November 10, 2017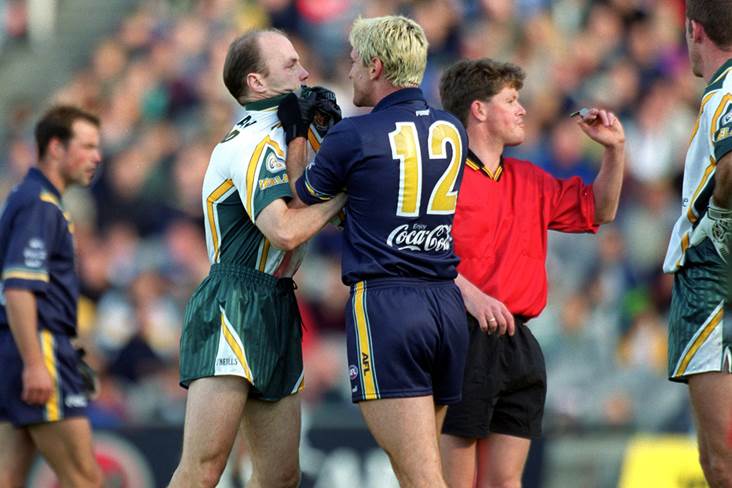 Ireland's Peter Canavan and Jason Akermanis of Australia in 2000.
©INPHO/Morgan Treacy.
Peter Canavan has recalled his International Rules feud with Australian Rules hard man Jason Akermanis.
The pair were engaged in an infamous running battle over four Tests in 1999 and 2000, leading to both of them being suspended for the first Test of the 2001 series. In 2000, Akermanis gave Canavan a bloody nose just 20 seconds into the first Test before the pair were sent off in the second Test for fighting.
Writing in today's Belfast Telegraph, the Tyrone legend recounted: "People often ask me about Akermanis. He took it upon himself to do a marking job that day by any means necessary and I took some exception to it. We both ended up getting sent off.
"The clearest memory I have of that whole episode is the post-match function later that night where the players were left to mix freely. Across the room, I saw one of their big fellas, he must have been 6ft7, making a beeline for me from across the room.
"He looked pretty menacing as he approached with a bottle of beer in his hand. At this stage I was wishing it was Darren Fay beside me rather than Ja Fallon! Anyway, he arrived over and he just stuck out his hand and said: "It looks like you broke his nose, fair play mate."
"I haven't met Akermanis since. People had him down as a bit of a mad man but there was much more to him than that. I know he went on to have a great career in the AFL."
Most Read Stories