Simonstown's AFL recruit Nash has no regrets
October 31, 2017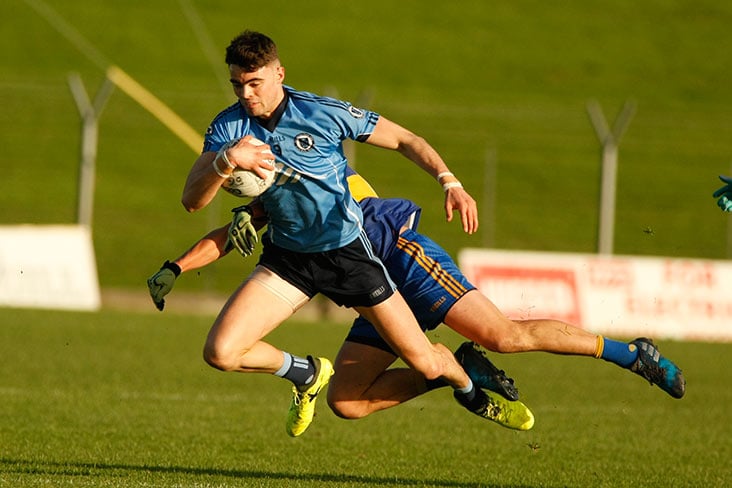 Conor Nash gains possession for Simonstown during the Meath SFC final against Summerhill at Pairc Tailteann.
Conor Nash will miss Simonstown's Leinster Club SFC campaign again but he has no regrets about pursuing a career in the AFL.
Having starred at midfield at Pairc Tailteann on Sunday, where Gaels defeated Summerhill in the Meath SFC final, Nash is due to return Down Under as Hawthorn's pre-season starts on Monday. It's a familiar scenario for the outstanding 19-year-old, who was only used in the dying seconds of last year's Leinster exit at the hands of Rhode as he was due to commence his AFL career imminently.
"This is what I'm doing. I would say if you were kind of half-hearted and thinking, 'What if I was at home playing with the boys? Or what if I went playing rugby, if I'd went that path how would that have gone?', then it's not going to work for you, you need to be 100 per cent committed to the job," he told The Irish Independent. "So I'm doing Aussie Rules at the moment, I'm completely focused on that until I'm told otherwise, that it's not going to work."
Nash says his ultimate goal is to break into the Hawthorn first team: "But if it doesn't happen, once you're improving... the goal is probably top-five players in the VFL consistently for a few weeks, then you should be getting your shot.
"There's brilliant communication between the coaches, they'll tell you where you're at. It's very easy for us to go up and say, 'Look, where am I at? I feel I'm playing well, I'm just not getting my chance, what do I need to improve on?' And they'll tell you out straight. That's the ultimate goal next year. But if it doesn't happen next year I'll still be looking to keep improving."
Most Read Stories