Counihan hopes Monaghan minors can make their Mark
July 10, 2019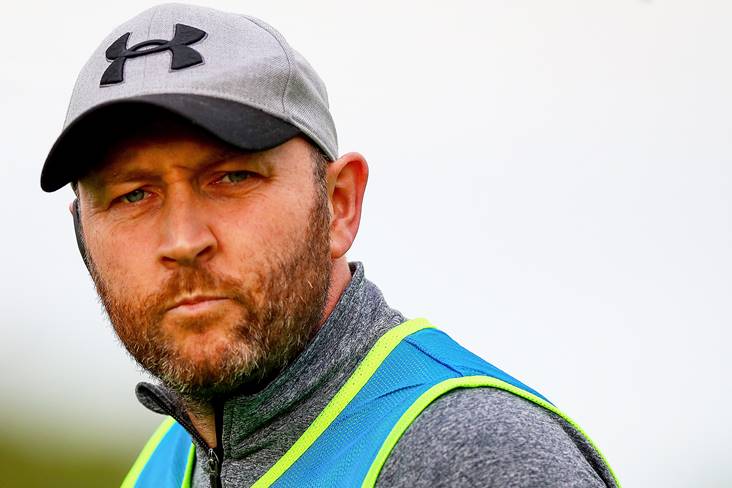 Monaghan manager Mark Counihan. ©INPHO/Tommy Dickson.
By John P Graham
Monaghan manager Mark Counihan has seen his team reach the final of the Ulster MFL and they are now in the Ulster MFC final but he would only regard 2019 as a good year if his side can reverse the outcome of the league decider.
Counihan and his players will renew acquaintances with Tyrone at the Athletic Grounds this Sunday (4pm).
"We have made progress, but if we can reverse the outcome of the minor league final which we lost to Tyrone then we could regard it as being a very good year," he revealed.
"We have made progress this year, good progress, but when you get to finals you need to be winning them, it's as simple as that."
This will be the third meeting between the two counties at minor level this year, they contested the minor league final, they have already met in the minor championship, a game Monaghan won, but with Tyrone coming through the back door, the seniors having already qualified for the Super 8s and their U20 team through to the Ulster final, football is strong in the Red Hand County.
"It certainly is, we lost the league final but then we beat them in Carrickmore in the championship, but they have come back very strongly in the back door and we fully expected that, because they were determined to get to the final.
"They are an exceptionally good outfit, they have great depth. Since our last game they have introduced a number of new players, Luke Donnelly, for example got his first start in the semi-final of the championship and hit 1-6 and picked up the man of the match award, which underlines their depth and they will obviously have learned a fair bit from their series of games in the championship as well.
"This will be a fresh challenge for us on Sunday, it's a big challenge, but it's a challenge we are really looking forward to. Since the semi-final preparations have gone well, we have had a three week break during which the boys had a couple of club games, but they are now back in with us now and we've had a couple of weeks now to work on, things, so preparations have gone well.
"We have no injury concerns thankfully, everyone is fit and well and its shoulders to the wheel by everyone to try and get a place on the team or on the match day panel. There is great competition for places, so we will have plenty of headaches now sitting down to pick the team and the match day panel for the game which is great because that's exactly what you want."
With this being the third meeting between these sides this year, there will be very few secrets on either side, so would the manager agree that it is now just down to the level of performance?
"Yes I suppose when we do know each other so well it could mean that, but you also have to be wary of curve balls coming at you, and as I said Tyrone have great depth. It's going to be tricky, but we have progressed since our last outing as well, we had a good semi-final win over Donegal and we've had a couple of boys who have come back from injuries and are ready to play their part.
"So what you have on Sunday is two very good teams going at it very hard and I think it has the makings of being an exceptionally good final. It's great to see those lads coming back from injury, because that strengthens the panel and gives us options.
"We gave every lad on the panel game time during the league and then for the Donegal game we has a couple of players who came in but who hadn't played championship before, so it bodes well and I do feel we have a strong panel and we can be very competitive. Tyrone might have a slight edge in that they had their last game in the championship here but we haven't played in the Athletic Grounds this year so far, but that's not a major issue, because a lot of the boys played here between schools competitions and those who were involved last year would have had a couple of games here as well.
"It's fantastic venue and it's a venue that is suitable for an Ulster final and hopefully there will be plenty of Monaghan supporters present to give us a good cheer on, because Tyrone have two teams there on Sunday, so they will bring big support."
The minor championship has changed in that first of all it's now an U17 competition, but it was traditionally played as the curtain raiser to senior championship matches, so does the Farney boss feel that with the final not being staged as the curtain raiser to the senior final it takes something away from it or is it better the way it is now as a stand-alone fixture?
"It's a fantastic competition first of all, there's no doubt about that, but I've been talking to most of the other minor team managers in the province and they would all feel the same that at the latter end of it the matches should be played as curtain raisers to the senior games or even as curtain raiser to qualifier matches because it is good for the players to get that kind of exposure to a big occasion.
"It's good for their development to get used to playing in front of big crowds and in a good atmosphere, so I definitely would feel that it's an opportunity missed by not having it as the curtain raiser on Ulster final day."
Most Read Stories