The curious case of Peter Harte's three questionable black cards
July 09, 2019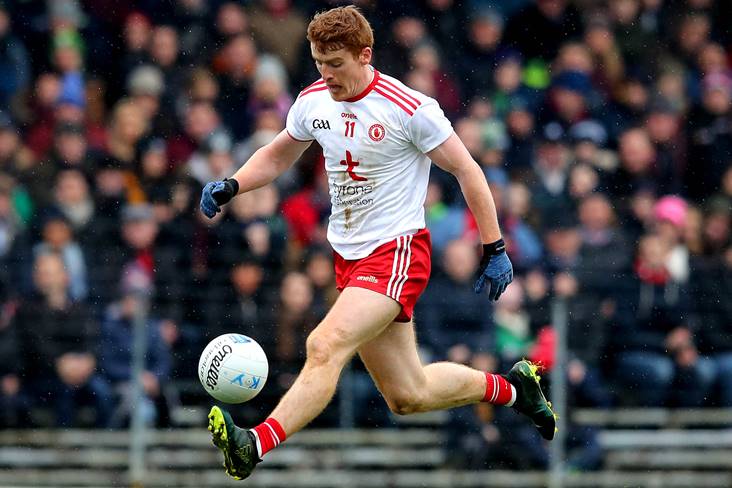 Tyrone's Peter Harte. ©INPHO/Ryan Byrne.
How Peter Harte has been on the receiving end of three harsh black cards inside a month is anybody's guess.
The Tyrone ace picked up his first black card of the championship eleven minutes into the Red Hands' Ulster semi-final defeat to Donegal at Breffni Park. A very costly one on the day as his team never recovered from the loss of one of its lynchpins. It's difficult to work out quite how David Gough deemed the clumsy foul on Ryan McHugh to have been worthy of black. It was a poor tackle, badly timed – a forward's challenge – but not cynical and did not come under any of the criteria for which the controversial sanction was introduced.
A fortnight later, against Longford at Pearse Park in Round Two of the Qualifiers, Harte kicked nine points upon his return to action but was black-carded by referee Derek O'Mahoney for pulling an opponent down in the 67th minute. Again, it didn't look particularly calculated or deliberate.
And, alas, on Saturday night on Clones, lightning struck for the third time when it was Barry Cassidy's turn to administer a black card to the Errigal Ciaran man in injury time at the end of the facile Round Four Qualifier victory over Cavan. Another mistimed tackle – nothing more, nothing less. Thus, in three of his last four games, Harte has been dismissed for fouls that were deemed to be deliberate trips (x2) and a deliberate pull down.
The player has been criticised for his poor tackling technique, whereby he leads with his foot and trips opponents accidentally whilst trying to shoulder them. But this is not a black-card offence. Naturally, Mickey Harte is outraged by the treatment his nephew has received and says he will be disgusted if the proposed one-match ban proposed by the CCCC is not overturned.
The Red Hands have requested a hearing in front of the Central Hearings Committee and are appealing all three cards. If one of them is overturned, Harte will be cleared to face Roscommon in the Super 8s at Dr Hyde Park on Saturday. This is a foregone conclusion as all three were harsh and not one looked like a stone wall black card offence.
The black card has been highly contentious since its introduction and Mickey Harte has been one of its greatest critics. It seems more than a coincidence that his nephew is now the victim of three dubious calls inside a month. As ever, the whole debacle raises more questions than it answers. A bad rule? Bad interpretation of a bad rule? Bad luck? Something else? Your guess is as good as mine.
Most Read Stories