HL2A: McNaughton sees Antrim stave off Royal rally
February 03, 2019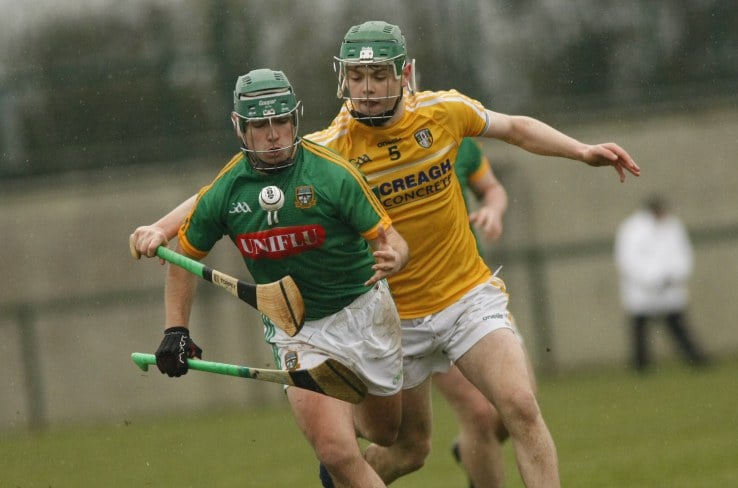 Meath's Padraig O'Hanrahan with Ronan Molloy Antrim during the NHL Div 2A game at Trim
James McNaughton's stoppage time point secured for Antrim a minimum margin NHL Division 2A round two win over Meath at Trim on Sunday

Antrim ...... 3-13
Meath ....... 2-15

Seconds earlier a Jack Regan goaled 20-metre free levelled matters for the seventh time in the game and set Meath up for their second draw of the campaign.

One minute stoppage time had been indicated but there was still time for Antrim - who led for most of the game - to claim the win. Some of the home support were unhappy with the amount of time added.

McNaughton's tally of 1-8 contributed significantly to Antrim's success. His workrate was another major factor in his side's success. Their ability to get goals proved crucial.

To their credit The Glensmen had the facility to rally when their lead looked threatened as they responded to their opening round loss to Kerry. Meath were motivated having dropped a point in Mayo first time out.

Meath fell three points in arrears within eight minutes of resumption. Seconds later Damien Healy netted Meath's first goal of the campaign, a well-struck effort from about 20 metres.

That levelled matters for the sixth time, 1-14 to 3-8. Antrim responded well outscoring Meath by 0-4 to 0-1 over the next 10 minutes.

A fine Shane McGann saved in the town goal stopped Antrim from netting a fourth goal after a McNaughton free from distance broke close to the end line.

Meath rallied and were rewarded with Regan's leveller. While the outcome was disappointing for them, they can take heart from their response to the concession of goals.

The opening half was a very competitive affair with Meath responding well to the concession of three goals.

Scores were tied four times in the first 14 minutes and five overall in the first-half.

Antrim were without their Cushendall and Nicky McKeague but seemed to have the edge on Meath who had to work harder for their scores.

Antrim's first-half goals brought their tally for the campaign to five inside a game and a half. Meath's first green flag of the campaign still awaited them.

Having conceded a goal to James McNaughton within 20 seconds of the off (Keelan Molloy and Ciaran Clarke were also involved in its construction), Meath responded to hit the front, for the only time in the half, through Kevin Keena five minutes in.

McNaughton's points helped Antrim keep the home side at arms' length. One of his five first-half pointed frees boosted the visitors to a minimum margin interval advantage, 3-5 to 0-13.
Antrim - R Elliott; S Rooney, J Dillon, P Duffin; R Molloy, M Donnelly (0-1), C McHugh; S Duffin, C Boyd; N Elliott (0-1), C McCann, J McNaughton (1-8, 0-5f, 0-1'65); E O'Neill (1-2), K Molloy, C Clarke (1-1). Subs: D McKinley for S Duffin, C Patterson for C Boyd.
Meath - S McGann; G Murphy, S Brennan, S Morris; K Keoghan, S Whitty, J Kelly; P O'Hanrahan (0-6, 4f, 1'65), S Quigley; D Healy (1-0), J Regan (1-4, 1-0f), D Kelly (0-3); A Douglas, M O'Grady (0-1), K Keena (0-1). Subs: E O Donnchadha for M O'Grady, J McGowan for S Quigley.
Referee - S Ryan.
Most Read Stories