Staunton can't see herself playing for Mayo again
October 20, 2018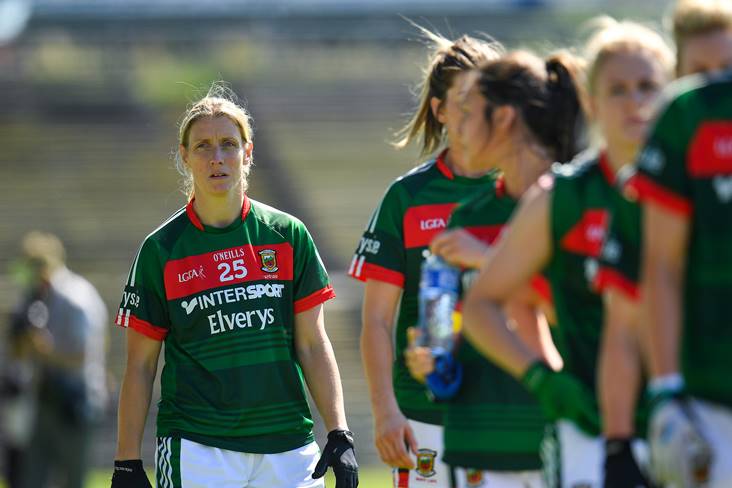 Mayo's Cora Staunton before the Connacht SFC final clash against Galway at MacHale Park, Castlebar.
Cora Staunton believes her Mayo career is over.
The legendary forward was one of 12 players to quit the county panel over player welfare issues this summer and speaking on The Late Late Show last night, she admitted that there is no going back.
"No, I can't see myself playing for Mayo again," said Staunton, who launched her autobiography 'Game Changer' on Thursday evening.
"I'm blessed. I've played for Mayo for 24 years. There's not many people can say they played for their county that long. Every year when you get older, I'm 36, you have to take every year as it comes.
"I can't say I'd love to be playing for Mayo in two years' time, because my body mightn't be able. I'd probably made the decision before I went back this year that this was going to be my last year in any event."
Staunton detailed why the 12 players, including eight of her Carnacon club-mates, walked out of the Mayo set-up this year.
"The main reason I walked out was because of the treatment of my friends and my team-mates," she continued.
"I couldn't stand by and watch that. It's an amateur sport and we can walk away from it an any time. We weren't happy with the environment we were in and we decided, you know what... I've always said to myself, when I'm not enjoying something, when my body isn't able to do it any more, I'm not going to play any more. And I decided in early June to walk away from Mayo.
"It wasn't an easy decision. I've played for Mayo the last 24 years. It was a very difficult decision."
Most Read Stories