Tyrone club threaten legal action over Cavanagh injury coverage
September 22, 2018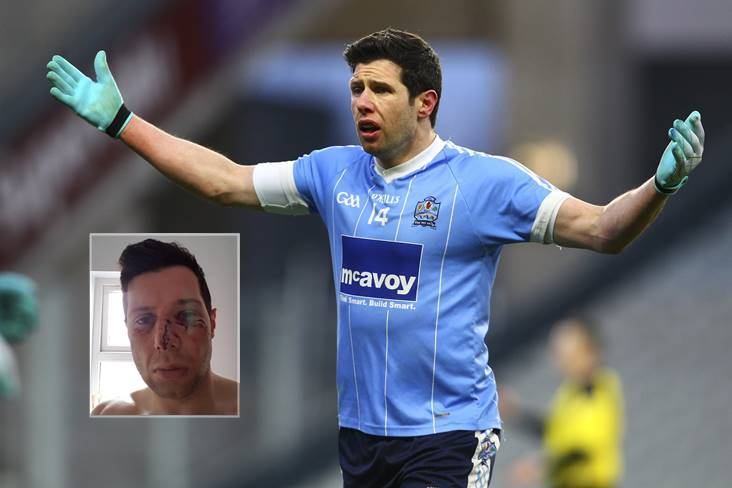 Sean Cavanagh in action for Moy and inset the former Tyrone star with facial injuries after a club game against Edendork.
Tyrone club Edendork have warned that they will explore legal avenues against any media outlets or individuals which levelled unsubstantiated and false accusations following their senior championship clash against Moy.
The game received national attention after a photo of facial injuries to Moy and ex-Tyrone star Sean Cavanagh went viral on social media and Edendork last night expressed their disappointment over what they feel has been "a blind trial by media".
Cavanagh suffered a broken nose and concussion following the incident last weekend.
Last night the St Malachy's club released an official statement which began by wishing the former Tyrone captain a speedy recovery before hitting out at some of the coverage it has since received.
"Edendork St Malachy's GAC would firstly like to take this opportunity to wish Sean Cavanagh a speedy recovery following a very unfortunate incident that occurred during Saturday's Championship Match," the statement on the club's Facebook page read.
"We as a club would like to advise that we have been deeply disappointed by the aspersions cast upon our players and club in respect of this incident. It is quite clear that a blind trial by media has occurred in relation to this matter, causing the individual player and the Club a great deal of vexation. It should be noted that this was a collision that occurred during the course of play and in plain view of the referee and match officials whilst the ball was in play. No sanction or disciplinary action ensued at that time.
"Edendork GAC would like to state firmly that it is the opinion of the Club and individual player that this was an accidental and unfortunate collision and we hold any suggestion to the contrary as being defamatory.
"The Club wishes to add that they are gravely disappointed by any media publication linking this incident to an overarching suggestion of an endemic problem of violence in Tyrone football.
"The Club warns that the individual player and club are taking legal advice in respect of comments published on social media inferring and expressly stating that this was a deliberate act. The Club and individual player will meet any inferred or express statement with the robustness required to ensure that the Club and player's reputations are protected.
"The player involved states resolutely that this was not an intentional or malicious act but an accident. We as a Club support this position and ask that people take a few moments to think before casting any insult or contempt towards the individual player or the Club.
"We hope this draws a line under what was a competitive encounter on Saturday against Moy GFC and emphasise that we hope to see Sean back playing for his club as soon as possible."
Most Read Stories