"Moronic cowards is the term I would use for them"
August 09, 2018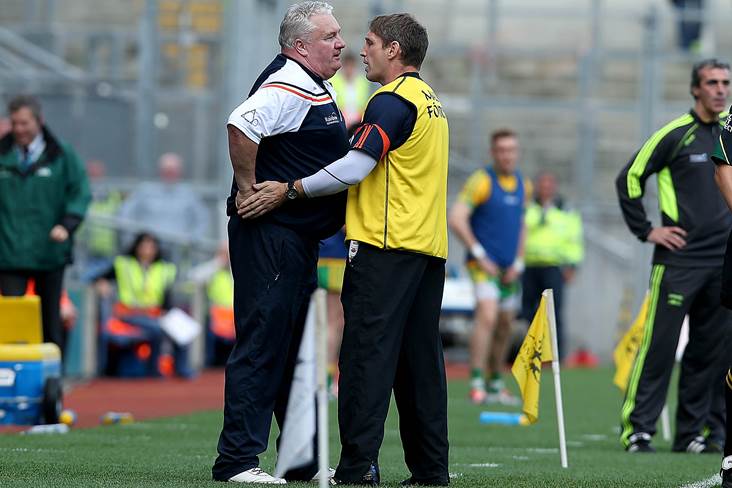 Paul Grimley is held back by Kieran McGeeney.
©INPHO/Donall Farmer.
Former Armagh manager Paul Grimley has branded those that send hate mail to players and managers as "worthless".
Following his resignation as Kerry manager last weekend, Eamonn Fitzmaurice talked of some of the abuse he received during his term and also revealed that one player was told "to jump off a cliff and take three or four other players with him" in a letter he received this summer.
Grimley has been on the receiving end of similar abuse in the past and had a term to describe the anonymous abusers when speaking to The Irish News recently.
"Moronic cowards is the term I would use for them," he said. "I remember the first one I got because it was on the eve of the 2003 All-Ireland final. The receptionist handed me a letter that came into the hotel before we arrived.
"When you're a manager, whether that be Kerry or Armagh or wherever, you're putting yourself in the shop window. The hate mail and the social media abuse that managers get now, it has to be put in context. The context is the phrase I've used there, moronic cowards.
"These things aren't restricted to Kerry and I'm sure every manager in Ulster as well as other counties have had experiences of it. It's not nice, does it annoy you? Of course it does.
"However, you have to deal with it by realising that this is the height of the courage that they have. They are worthless."
Most Read Stories