Mugsy: Sean broke an unwritten rule
June 12, 2018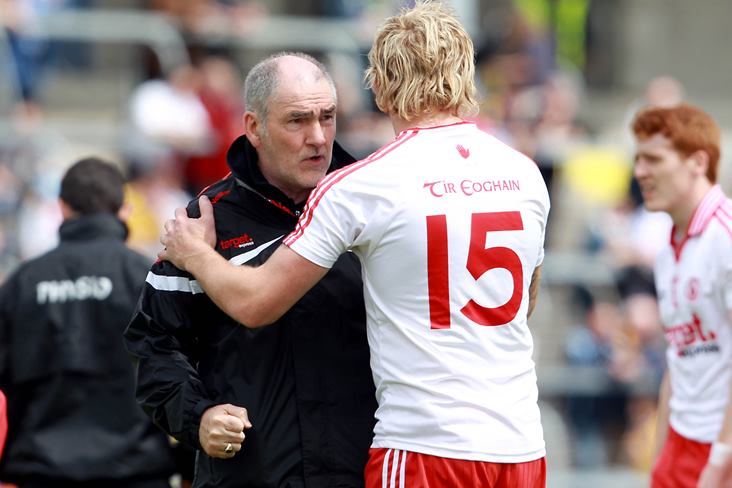 Owen Mulligan with manager Mickey Harte during his playing days with Tyrone
Owen Mulligan has taken his former team-mates Sean Cavanagh and Gavin Devlin to task for washing Tyrone's dirty linen in public.
Recently retired Red Hand star Cavanagh described manager Mickey Harte as 'autocratic' and claimed that the county's forwards weren't being allowed to showcase their talents because of the manager's tactics.
Talking to Paddy Power News, 'Mugsy' claimed the 2008 'Footballer of the Year' broke an unwritten rule.
 "I myself, in past interviews and blogs have criticised Mickey Harte's style of play.
"But it's almost an unwritten rule among the old guard that you don't come out and be disrespectful to ex-teammates and management, especially when freshly retired and in the business end of the season. The timing is just not right.
"I understand being a pundit and writing a book is all about promoting yourself, but you can stay loyal at the same time, especially when the man helped him win nearly every honour he has."
Mulligan was also critical of assistant manager Devlin's response to Cavanagh's criticism.
"I really don't think that Gavin Devlin should have come out and said what he did.
"Questioning Sean's captaincy credentials was always going to cause a stir and make a bigger story of the whole thing.
"Cavanagh was one hell of a player and he did incredible things for Tyrone."
Most Read Stories