Antrim footballer to continue No vote campaign
April 24, 2018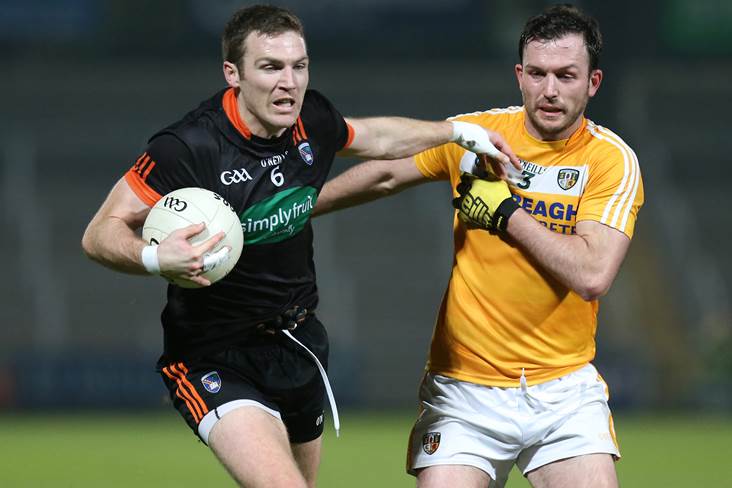 Armagh's Brendan Donaghy in action with Patrick Gallagher of Antrim.
©INPHO/Presseye/Matt Mackey.
Patrick Gallagher says he is "strongly pro-life" and will continue to campaign for a No vote in the forthcoming referendum to repeal the Eighth Amendment.
The Antrim footballer attended the GAA Athletes for a No Vote launch over the weekend, while others have come out voicing their support of a Yes vote, prompting the Association to contact all County Boards telling them that members should have no political involvement. A GAA statement followed, pointing out that "the GAA is a non-party organisation whose individual members may, of course, decide to take positions on political issues in accordance with their own personal views and commitments. As an Association, however, the GAA does not take a position, or comment in any way, on either elections or referenda."
But Gallagher told The Irish Independent: "The GAA shouldn't be political, counties and clubs shouldn't be involved, the Association shouldn't have a position. I don't feel that is applicable to us because we are a group of members coming together with similar views.
"I've always been strongly pro-life. To get involved in this campaign specifically, I was talking to a few people involved with the different campaigns for No. And we speak about how the GAA has community spirit and inclusion and we really feel that this inclusion should involve everyone in society, including the unborn.
"There's better answers, so we should come together as a GAA community, as members of a great Association, as a country and provide better answers for people, for women."
Most Read Stories