Harte hails Donnelly's "priceless" point
February 12, 2018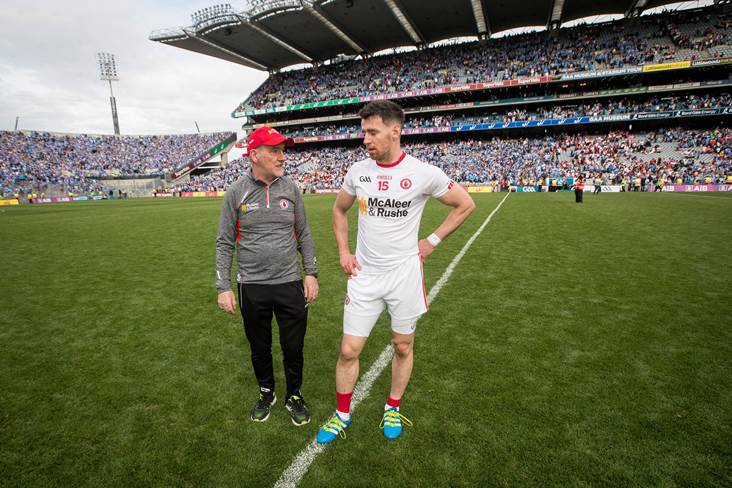 Tyrone manager Mickey Harte and Mattie Donnelly.
©INPHO/Ryan Byrne.
Mickey Harte has described Mattie Donnelly's match winning heroics in Newbridge yesterday as "priceless".
Tyrone secured their first points of their Division 1 campaign at Kildare's expense thanks to their captain's brilliant winning point in the 6th minute of stoppage time.
"If you didn't today you're three and nought - not a great place to be," Harte remarked to The Irish Independent.
"Three and one still doesn't leave you out of the woods by any means but at least there's a wee bit of optimism there.
"You've the possibility to stay away from the very bottom. That last point of Mattie Donnelly's was priceless in terms of league points."
Next up for the Red Hands is a Dr McKenna Cup final date with Donegal which is scheduled for next Saturday evening. The following weekend they have a round 4 date with Monaghan to look forward to.
"It's a battle all the way and you look at the teams you have to play, you can't look ahead and say, 'These are easy games.' It gives us that bit of confidence to believe that we can pick up a couple of points. Picking up points, we haven't done (that) for a long time.
"To get this today is very, very vital for us."
Most Read Stories