Dual player row in Tipp rumbles on
December 07, 2017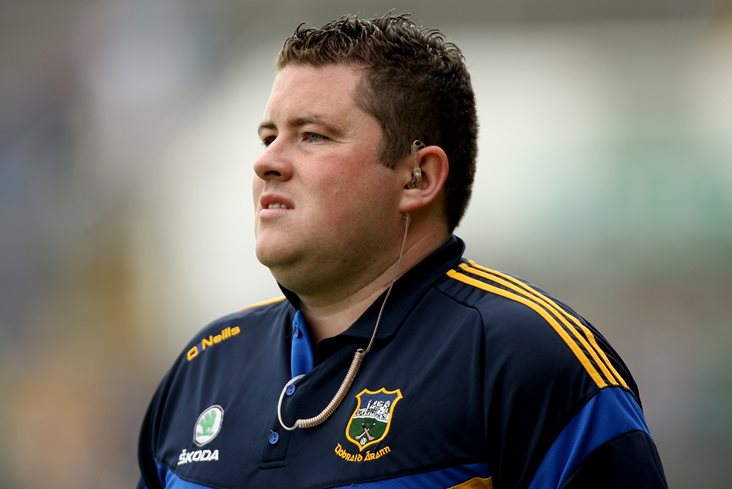 Tipperary U20 manager David Power
By Declan Rooney
Former Tipperary All-Ireland winning minor football manager David Power says he wants to see potential dual players play for their county rather than being threatened with being dropped from hurling squads.
Speaking at Tuesday night's Tipperary football board AGM in Thurles, Power, who is the current Tipperary U-20 football manager, also warned that the county's fortunes will nosedive quickly if they do not continue to develop young footballers.
Referencing the fact that a secondary school student was dropped from his school's Harty Cup hurling squad because he wanted to play football, as well as current Tipperary U-21 hurling manager Liam Cahill's opposition to dual players, Power urged young GAA players to stand up for themselves and give football a shot if they were interested.
"There is one young man that has said he is going to play football and he doesn't care if he is going to be dropped off the U-21 hurling or not. And they are the type of players that Tipp football going forward need, not fellas that are going to bow down to managers and (be) dictated (to)," said Power. 
"We all know what Liam Cahill's stance is, but we are after seeing around 85 players over the last two Sundays that want to play football for Tipperary. And that's what we're going to go with. Yes there is probably half dozen players that will only play U-21 hurling that we would love to have.
"I think going forward for Tipp football we need players that want to play for Tipp football, not to be going down on a bended knee begging lads. 
"I think we are gone past that. We are after proving that we can achieve things. We have to work hard and get on with it. But if players see things done properly they'll come in as well."
Outgoing football board chairman, Joe Hannibal, said the county's U-17 football manager, Mattie Doherty, and U-17 hurling manager, Tommy Dunne, had already met to see if they could come to some arrangement for the benefit of dual players.
Among the club delegates who voiced their annoyance at the dual player issue raising it's head once again was Clonmel Commercials Derek Williams, who wondered "has it gone that bad" that a player "would rather play a Mickey Mouse competition (the Celtic Challenge) in hurling than play football for his county in the Munster championship".
Power, who led Tipperary to their second ever minor football All-Ireland in 2011, also voiced his concerns regarding football development squads, and the role the football board has in selecting those squads.
And he warned there can be no going back to the time when football was by a distance the poor relation in the county.
"When I first started off in 2009 I had only six players at a minor trial. But we are gone way past that, but we will go back there again if we are not careful," said Power.
"The last two years we haven't won a minor match and that's the reality of it. 
"What I'm worried about is if the football board don't have a say in picking development quads we are going nowhere in this county."
At the AGM the football board's new chairman Barry O'Brien (Fr Sheedy's) was ratified, as was new vice chairman Conor O'Dwyer (Upperchurch-Drombane), while incumbent secretary Hugh Coghlan (Moyne Templetuohy) and PRO Enda O'Sullivan (Nenagh Éire Óg) retained their seats.
Most Read Stories