What they said … the weekend in quotes
July 23, 2018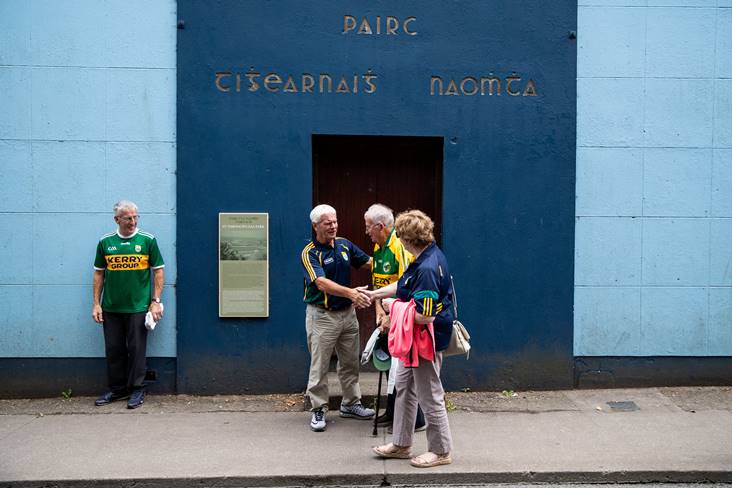 Kerry fans make their way into St Tiernach's Park, Clones for the All-Ireland SFC quarter-final phase 2 clash against Monaghan.
©INPHO/Morgan Treacy.
"Every score we got, we really had to earn, we found it really hard to get breaks, frees, anything, but that's an away game, that's the way it is going to work. We were all very disappointed after our no-show last weekend and we wanted to right that."
Eamonn Fitzmaurice and Kerry got out of jail in Clones and their championship aspirations hang by a thread entering the final phase of the Super 8s.
"We could have been a bit more clinical and when you look at the stats, even though we would be happy with our performance and played really well, we were probably not half as clinical as we needed to be."
Malachy O'Rourke was left scratching his head after Maurice Deegan's final whistle.
"It's a learning process, learning to dig out a result away from home on a tight pitch. When the boys were asked questions, they really dug it out."
Galway booked their place in the last four of the Sam Maguire Cup race and Kevin Walsh was pleased with the character shown by his side.
"Another shocking decision - which wasn't the referee's call - to send the player off. I thought it was a very well contested and hard-fought match. And to lose a player for 25 minutes there. It's just not on. You'd really wonder why we train so hard and then get treated like that by sideline officials who seem to be more interested in looking for something that's not there than assisting the referee."
Lilywhites boss Cian O'Neill was left fuming after star forward Daniel Flynn saw red in Newbridge.
"When we went into Croke Park, we just felt we maybe showed Dublin a little bit too much respect at times. They are a quality side, they won the last three All-Irelands and we knew it was going to be difficult. But I think the lads played there [today] with belief and expressed themselves. They kicked 20 points and it's a nice score to get."
Declan Bonner and Donegal bounced back from their opening round defeat to Dublin in Dr Hyde Park on Saturday.
"I don't understand that type of co-operation, or lack of it, between officials. I made that very clear to Ciarán (Brannagan) and he felt I made it in too aggressive a form. I wasn't very happy with them and they weren't happy with me."
Kevin McStay is likely to face disciplinary action after confronting linesman Niall Cullen during his side's seven-point defeat.

"I think every team enjoys going on the road. We certainly do anyway and our supporters do. We were passing them by on the bus up there today and they seemed to be all having a good time which is great for them, and great for the economy as well. It's a great format, there are eight teams getting more games as well."
Dublin's bid for a Sam Maguire Cup four-in-a-row remains on course and Jim Gavin enjoyed the road trip to Omagh.
"Narrowing of the pitch is nothing to do with me. That was actually a request came through from Sky, that they would like more clearance at the side for their technology. The Omagh St Enda's club asked me would I be okay with it and I said, 'Work away'."
Mickey Harte denied that he had any input into the decision to narrow the Healy Park pitch in advance of the visit of the Dubs.
"I am very happy with how the lads played today. It was a really solid performance throughout the game. We laid good foundations in the first-half and the goal in the third quarter made us really comfortable."
Joe Treanor guided Meath to a first Leinster MFC success in 10 years at Kildare's expense on Saturday.
"It's all about Tipperary next Sunday and we are going to start thinking about that now."
Kilkenny's reward for their All-Ireland MHC quarter-final win over Limerick is a semi-final date with the Premier County and manager Richie Mulrooney is looking forward to the challenge.
"We wouldn't be happy with what we've conceded but that's the challenge that these games bring that you go away and work on the stuff that you are not good at. You only find that out when you are exposed so that's what we'll do ahead of Mayo."
Dublin have work to do, according to manager Mick Bohan, ahead of next Saturday's clash with Mayo.
"The girls really stood up. I am delighted with the performance to be honest. Galway got off to a great start. Our girls really dug in. The penalty (goal from Denise Gaule) came 12 minutes into the second half so you couldn't say you were home and dry paying against such a good Galway team."
Ann Downey was delighted with Kilkenny's win against Galway which saw them advance to the semi-final stages of the All-Ireland camogie championship.
Most Read Stories