What they said … the football weekend in quotes
May 28, 2018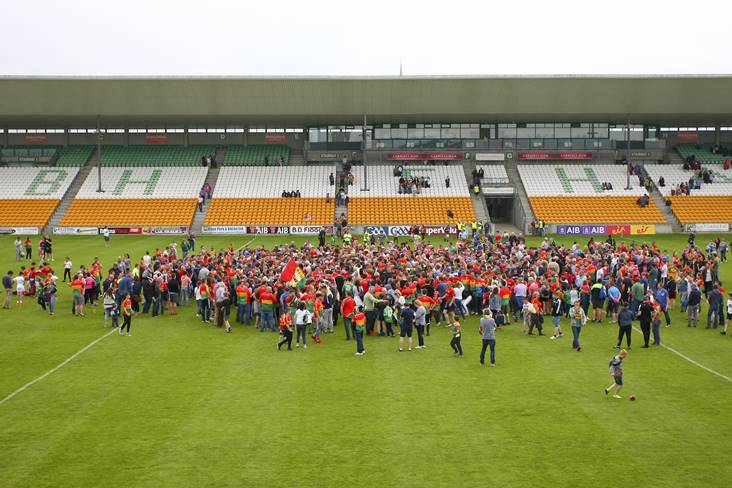 Carlow supporters celebrate on the pitch after their side's Leinster SFC quarter-final victory over Kildare at O'Connor Park, Tullamore.
©INPHO/Ken Sutton.
"This team can go a long way yet. People keep saying the game is more negative but we scored 2-14 here today. It is more tactical. It is a game of chess and we have a few grandmasters out there."
Carlow had their shooting boots on against Kildare and Turlough O'Brien now switches his focus to a penultimate stage clash with Laois.
"Catastrophic is the word I would use. Out-worked, out-fought, out-played - that's a travesty for the work the lads have put in."
The Lilywhites' losing streak continues and Cian O'Neill has a big job on his hands trying to lift his team's morale ahead of the back-door series.
"You'd have to be very happy with that result, particularly the attitude the Dublin players displayed. They've trained really well coming into this game, and they've been on script, a very ambitious and determined group."
Jim Gavin and the Dubs went about their business with the minimum of fuss in Portlaoise.
"They were here against Offaly and they were nervous as cats on a hot-tin roof. They were more settled going out today. In the second half they were even more settled still so I learned that the more they play, the more experience they get and the better they are going to get."
It was a learning experience for John Evans and the Garden County.
"We'll certainly be turning up in the Hyde. I hope someone else is there to meet us on the day and we'd be very, very absolute about that. We'll be there and let's see."
After guiding the Rossies to a 14-point success over Leitrim, Kevin McStay was adamant that they should have home advantage in the provincial decider if Galway overcome Sligo next weekend.
"The fact that we're in the second round of the qualifiers, it's going to be a difficult opposition that we're going to face but we just have to regroup on Tuesday night, focus on ourselves and plan accordingly."
The second round of the qualifiers beckon for Brendan Guckian and Leitrim.
"To win any match in Ulster is good. It was a patchy performance. We know that. We played well in patches and got some good scores, but at the same time we were poor in patches."
Two goals separated Declan Bonner's Donegal side and Derry in Celtic Park.
"That is the highest level game we have played all year against one of the best teams in the country. That side has played all spring on TV and we certainly have not done that."
Damian McErlain and the Oak Leafers failed to get the disappointment of relegation to Division 4 out of their system.
"It's huge for us. We know that Dublin are a super team but we want to enjoy this first before planning for that."
Denis Connerton guided Longford to a first Leinster SFC semi-final appearance in 30 years.
"We have to face into the qualifiers now, prepare properly and try to put together a performance and see where it takes us. I don't think this group will wallow in pity, I don't think they are like that, but time will tell."
Tyrone respresents a major challenge for Andy McEntee and Meath in the first round of the qualifiers.
"The pressure was on the team to deliver, and they did."
Cork came up trumps against Tipperary and Ronan McCarthy was proud of his team's performance.
"It's a serious setback, probably our worst setback in the three years we have been together. Our progress was pretty sustained up to this point and this is a setback certainly."
McCarthy's Premier County counterpart Liam Kearns was at a loss to explain his team's below-par display.
"We won and that was the main thing. Antrim was always a banana skin… It took us a wee bit of time to settle in but once we did we got our feet on the ground and got our systems running."
The result was all that mattered for Eamonn Burns in Newry on Saturday evening.
"We just have to work harder on our kick-out strategy because it's critical in the modern game."
Antrim boss Lenny Harbinson highlighted an area that they need to improve on going forward.
"To be fair to Westmeath they played some great football against the wind and we were quite slow and sluggish to start. We found our feet and got some very important scores before half-time."
John Sugrue's Laois will renew acquaintances with neighbours Carlow in the last four of the Leinster SFC.
"It is very disappointing. You can't concede the goals we conceded and expect to get anything from the game. At the end of the day, the lads gave all they had and that is all you can ask for."
The concession of four goals proved costly for Colin Kelly and Westmeath.
Most Read Stories