"It's basically saying Munster hurling are these aristocrats"
May 22, 2018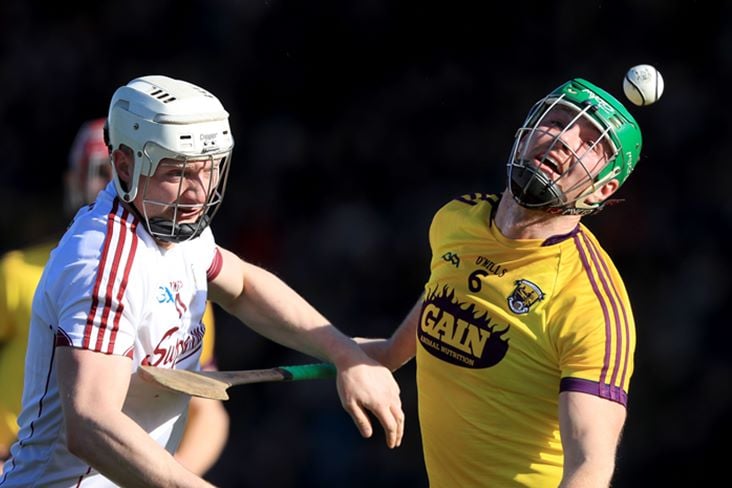 Galway's Joe Canning and Matthew O'Hanlon of Wexford tussle for possession during the Allianz League quarter-final at Innovate Wexford Park
Matthew O'Hanlon has hit out at the controversial ruling that a team will be relegated from the Leinster SHC.
Under the new system, one team from either Wexford, Offaly, Galway, Dublin or Kilkenny (who are already safe) will be relegated from next year's round-robin Leinster SHC and replaced by the winners of the Joe McDonagh Cup, should Antrim, Carlow, Westmeath, Meath or Laois win the new competition.
However, in a bizarre anomaly, should Kerry land the second-tier championship, they won't be promoted to the Munster SHC. Instead, they will only receive a play-off against the bottom-placed side in Munster.
This effectively means a Leinster SHC side will almost certainly lose their Liam McCarthy Cup status, while the five Munster teams realistically have no such worries.
"I don't think it's right at all. I think it's something that probably wasn't highlighted in Congress enough and the people in Congress didn't make enough of the decision,: the Model County's joint-captain told The Irish Daily Star.
"It's basically saying Munster hurling are these aristocrats and they are looking down on Leinster. Because why should the fifth-place team in Munster not get relegated if the fifth-place team in Leinster does get relegated.
"You can see there is no lack of quality in the five teams that are in Leinster. I don't think it's fair and I don't think it's fair on the Joe McDonagh teams, especially if Kerry were to win the Joe McDonagh. They have earned the right to get up if that's the way the rules are.
"And they have to play a play-off in Munster, where they don't in Leinster. It makes no sense. It's something that definitely needs to be looked at."
Most Read Stories