Sheedy fears for Tipp
May 21, 2018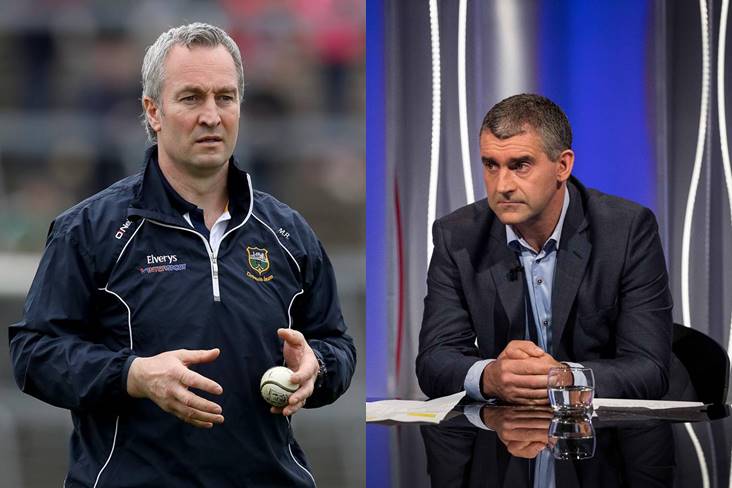 Tipperary manager Michael Ryan and the Sunday Game panellist Liam Sheedy.
Liam Sheedy fears Tipperary could make an early championship exit if they lose to Cork next weekend.
The Premier County made a poor start to their Munster SHC campaign yesterday when they lost to Limerick by six points. Afterwards, manager Michael Ryan refused to speak to the media, a move which appears to have magnified the defeat.
"Next weekend is huge for Tipperary," 2010 All-Ireland winning manager Sheedy said on The Sunday Game.
"Cork are coming to Thurles and John Meyler and his troops know that they turned them over there last year. If they turned them over this time around it's going to leave Tipp in a seriously bad place."
Sheedy felt Ryan's decision to leave the likes of Seamus Callanan, Patrick 'Bonner' Maher, Brendan Maher and Michael Breen out of his starting line-up backfired badly.
"It was a big ask, to ask five guys to go in and make their debuts in the Gaelic Grounds in Limerick. It's a tough place to go," he added.
"Limerick were always going to outnumber Tipp in there. I thought five (debutants) was maybe a step too far when you had the likes of Brendan Maher, 'Bonner' Maher, Seamus Callanan and so much artillery on the sidelines.
"I just thought it was a bridge too far for some of those young guys going in. None of us are inside watching training or what's going on. You can only assume that these guys that got the jersey today were putting their hand up in training.
"But when you look at it in the cold light of day... did it drain some confidence out of the team on that back of what was announced? Look, if you win everything is rosy in the garden because he's all these guys coming back and you do have four matches in a week.
"Ultimately it backfired for Tipperary."
Most Read Stories