Winning captains honoured at Offaly decider
October 15, 2010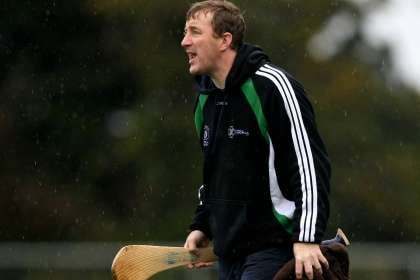 Birr and Offaly legend Brian Whelahan
The captains of all Offaly senior hurling championship winning sides of the past half century will be the guests of honour at the 2010 decider between Tullamore and Coolderry on Sunday.
The Sean Robbins Cup was first presented in 1960, when Drumcullen's Paddy Molloy was the winning captain, and as recognition of the cup's 50th anniversary, all the victorious captains have been invited to O'Connor Park in Tullamore this Sunday (October 17th).
The winning captains include such stars of the past as Pat Joe Whelahan (St Rynagh's, 1975), Martin Hanamy (St Rynagh's, 1990), Brian Whelahan (Birr, 1991 & 2007), Johnny Pilkington (Birr, 1994), Joe Dooley (Seir Keiran, 1995) and Kevin Kinahan (Seir Keiran, 1998).
Among those who are sadly deceased are Gerry Burke, who lifted the Sean Robbins Cup as St Rynagh's captain in 1968, and Coolderry's winning captain in 1980, Pat Carroll.
Brendan Loughnane of Coolderry is the only man to have captained three Sean Robbins Cup-winning teams, between 1961 and '63, while St Rynagh's pair Padraig Horan and Aidan Fogarty and Birr's Brian Whelahan were all winning captains on two occasions.
The full list of winning captains over the past 50 years is:
Paddy Molloy (Drumcullen, 1960)
Brendan Loughnane (Coolderry, 1961 & 1962 & 1963)
Andy Gallagher (Tullamore, 1964)
KK Kenny (St Rynagh's, 1965)
Ger Nallen (St Rynagh's, 1966)
Pat Spain (Kinnitty, 1967)
Gerry Burke RIP (St Rynagh's, 1968)
Damien Martin (St Rynagh's, 1969)
Ray Horan (St Rynagh's, 1970)
Declan Hennessy (Birr, 1971)
Frank Whelahan (St Rynagh's, 1972)
Basil Johnson (St Rynagh's, 1973)
Padraig Horan (St Rynagh's, 1974 & 1981)
Pat Joe Whelahan (St Rynagh's, 1975)
Pat Moylan (St Rynagh's, 1976)
James Dooley (Coolderry, 1977)
Tom Hannon (Kinnitty, 1978)
Matt Corrigan (Kinnitty, 1979)
Pat Carroll RIP (Coolderry, 1980)
Sean White (St Rynagh's, 1982)
Pat Delaney (Kinnitty, 1983)
Ger Coughlan (Kinnitty, 1984)
Mark Corrigan (Kinnitty, 1985)
Noel Teehan (Coolderry, 1986)
Aidan Fogarty (St Rynagh's, 1987 & 1992)
Eugene Coughlan (Seir Kieran, 1988)
Jim Troy (Lusmagh, 1989)
Martin Hanamy (St Rynagh's, 1990)
Brian Whelahan (Birr, 1991 & 2007)
David Hughes (St Rynagh's, 1993)
Johnny Pilkington (Birr, 1994)
Joe Dooley (Seir Kieran, 1995)
Liam Coughlan (Seir Kieran, 1996)
Joe Erritty (Birr, 1997)
Kevin Kinahan (Seir Kieran, 1998)
Declan Pilkington (Birr, 1999)
Gary Cahill (Birr, 2000)
Simon Whelahan (Birr, 2001)
Gary Hanniffy (Birr, 2002)
Niall Claffey (Birr, 2003)
Joe Brady (Coolderry, 2004)
Barry Whelahan (Birr, 2005)
John Paul O'Meara (Birr, 2006)
Rory Hanniffy (Birr, 2008)
Shane Dooley (Tullamore, 2009)
Most Read Stories