Wexford chiefs to discuss hurling league changes
October 03, 2013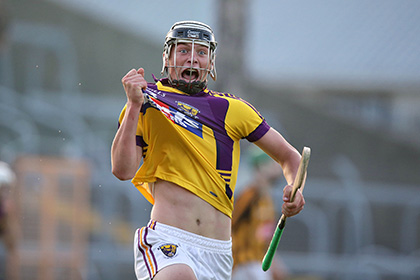 Wexford's Conor McDonald celebrates a goal in extra time in the Leinster U21 hurling decider.
The Wexford management committee will meet on Saturday to discuss the proposed changes to next year's Allianz Hurling League.
The Model County is vehemently opposed to the proposed new formation which would see Liam Dunne's men remain in a new six-team Division 1B with Limerick and Cork (who were relegated last season) being promoted to a new eight-team Division 1A.
A Wexford county board tweet this afternoon read: "Due to the urgency of the situation around the National League, Wexford GAA management committee will now meet on Saturday 2pm to discuss."
Speaking to the Irish Times, Wexford chairman Diarmuid Devereux described the proposal - which requires a simple majority when Central Council meets in two weeks' time - as "a blatant act of cynicism".
He fumed: "It seems as if Wexford is voiceless in Croke Park. We did not lose our Division One status we drew with Tipperary to retain Division One hurling with our final game. At that time Croke Park decided they wanted a six-team division and we were dumped down to Division 1B.
"Two years later they want an eight-team division. What has changed the criteria in the meantime. We have more of a right to Division One hurling than Limerick for we retained our status only for Croke Park to dump us down to Division 1B. What has changed for Croke Park to bring in this new proposal? Is it because Cork qualified for an All-Ireland final and Limerick won Munster?
"We in Wexford won Leinster Under 21 this year. We played draws with both Dublin and Clare in the senior championship. Does all that count for nothing?"
Most Read Stories