Retiring Dan fires parting shot at Fitz'
August 18, 2010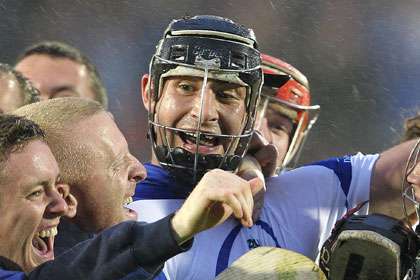 Waterford's Dan Shanahan celebrates
Dan Shanahan claimed he didn't get a fair crack of the whip from Waterford manager Davy Fitzgerald this year after announcing his retirement from inter-county hurling yesterday.
The 2007 Hurler of the Year spent most of this season on the substitutes' bench and expressed frustration at the lack of game time he was afforded in what proved to be his final year in the Deise colours.
"I thought I would get a lot more (playing time) but that is not my decision. The lads would back this up. When I went back training I had been playing well, but obviously the management didn't think I was, so that is their decision and I will have to stand by that."
Shanahan came off the bench to score the winning goal against Cork in last month's Munster final replay, but Waterford were already a beaten docket when he was introduced midway through the second half of last Sunday's All-Ireland semi-final defeat to Tipperary.
Though he accepts that Tipperary were clearly the better team on the day, he pointed the finger of blame squarely at Fitzgerald with his appraisal that "Tipp had our tactics off more than anything else".
"Two of their forwards got five or six points each and that doesn't happen when you are playing county hurling," he pointed out.
"A player getting six points from play is a one-off. One fella got five points and another got six. You can't concede them scores, eleven points from play in one game," he said.
The Lismore clubman, who had an uncanny ability to score goals in big championship games, won four Munster medals, a National Hurling title and three All-Stars during an illustrious career which began in 1996. However, an All-Ireland medal proved elusive.
"My time is up," he continued.
"It's been a roller coaster, to be honest with you. It has been good and bad but I have made some friends out of it and I have kept some friends. I have won a lot, obviously not the big one, but I can hold my head up high."
Shanahan says scoring the winning extra-time goal against Cork in the recent Munster final replay was among his career highlights.
"To get the goal was outstanding though, absolutely outstanding, and I'll never forget it when it went in and the lads came up to me to celebrate afterwards. It was unbelievable, and I thank all the lads I played with over the years."
Asked if he thinks Davy Fitzgerald should continue as manager, 'Big Dan' replied: "That's not my decision. That is a county board decision. It isn't about me or Davy Fitzgerald. It is about the Waterford players and the Waterford team.
"If he stays on, well and good, if he doesn't, well and good."
Most Read Stories