Owens rues decision to uphold Prendergast ban
July 07, 2010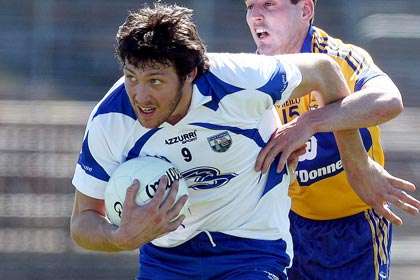 Waterford's Tommy Prendergast
Waterford manager John Owens has described the decision to uphold Tommy Prendergast suspension as a "disaster".
Owens was speaking ahead of his side's All-Ireland SFC qualifier showdown with Offaly this weekend at Tullamore after the player's appeal against the ban was rejected by Croke Park's Central Competitions Control Committee (CCCC).
Prendergast was suspended after being sent off for an alleged elbow in last month's Munster SFC semi-final against Limerick.
"Disaster. Disaster. That's all I can say," Owens told the Irish Daily Star of the CCCC's decision.
"I've seen the replay and the sending-off was totally out of order. But people make decisions at the time and you just hope that the boys at Croke Park can look at it and maybe say it was a bit harsh.
"But the boys from Croke Park don't see it that way so, well, they're not everyone's friends I can tell you."
Waterford must now turn their focus towards what is sure to be a tough test against the Faithful men at O'Connor Park, where the hosts will fancy their chances of progressing through to the third round of the back-door.
"They'll be confident that they'll be able to turn us over in this game with home advantage I suppose but that's the championship for you," said the Down native.
"There's been a lot of work done by both counties and I suppose it'd be nice for us if both could progress but there's only going to be one and we hope it'll be ourselves."
Most Read Stories