The semi-final dilemma facing Mulvey family
June 19, 2013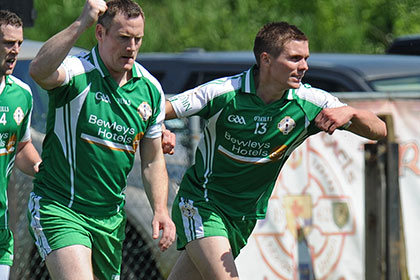 Lorcan Mulvey celebrates his goal against Sligo with Padraig McGoldrick at Ruislip. INPHO
London's Connacht SFC semi-final showdown with Leitrim in Carrick on Shannon on Sunday will test county and family loyalties to the limit in the Lorcan Mulvey household.
The London star's parents both hail from Carrick and not only did the young Mulvey grow up cheering for Leitrim, he was at Hyde Park in 1994 when they won their last Connacht title, beating Mayo 0-12 to 2-4.
To make matters worse, it was Mulvey's tally of 1-2 that went along way to helping the Exiles overcome Sligo at Ruislip, and in doing so give the Mulvey's and Guckian's (his mother's maiden name) of Leitrim a difficult decision to make on Sunday.
"It'll be a big Mulvey day out," Mulvey told the
Irish World in London
.
His uncle Joe Guckian played for Leitrim in the 70s and 80s while his uncle Tom Guckian is a member of the County Leitrim CCC and is the Chairperson of the Páirc Seán committee.
"My mother and father are on the fence at the moment. I think we'll have to put them in one of the boxes out of harm's way - I don't know which way they're going to sway. I put the question to them and they said they'll cheer for both and we'll see how it turns out.
"They'll be happy enough either way. I'd safely say I'll have at least ten aunties, uncles and cousins there. I can't imagine any of them not being at it.
"I had a few Leitrim jerseys in my day. I would have spent summers in Leitrim when I was young - I was at the 1994 Connacht final against Mayo. I was a Leitrim supporter till I was about ten or 11, before I changed over my allegiance."
Thereafter it was Cavan who became the object of the young Mulvey's affections, and he would go on to represent them at senior for eight years up until 2010.
Most Read Stories