O'Shea has no gripe with ref
May 05, 2014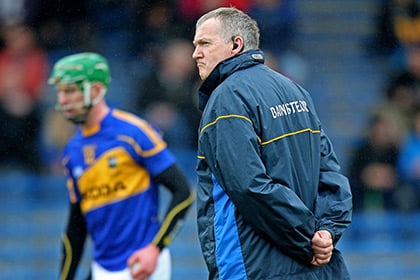 Tipperary manager Eamon O'Shea. INPHO
Eamon O'Shea refused to criticise the refereeing of James Owens after Tipperary's extra-time loss to Kilkenny.
The Wexford official irked Tipp supporters with some of his decision-making, but O'Shea preferred to focus on the performance of his team, which he described as being 'outstanding'.
"Very good performance - I really thought the players really played well. I thought the performance was outstanding - my players were outstanding. Anybody in this group who criticised this group of players, I think you need to think again," the Premier County boss reflected.
"It was just a game. We lost the game by a point - I don't believe in lucky and unlucky."
When pressed on the match official's performance, O'Shea replied: "It happens in a game - it happens in a game, up and down, you get ebb and flow.
"I can't change what happened. What happens in a game happens in a game. You get penalties, you don't get penalties. I could spend my life worrying about this, but I have to move on. I'm just really proud of the players - they put in a huge effort.
"I'm not going to be critical of anybody. That's a game that has to be refereed in real time."
The Kilruane McDonagh's clubman also refused to be drawn on the two Kilkenny penalties, which were both converted by TJ Reid, simply saying: "Referees are there to give penalties."
Most Read Stories