O'Shea breathes sigh of relief
March 24, 2014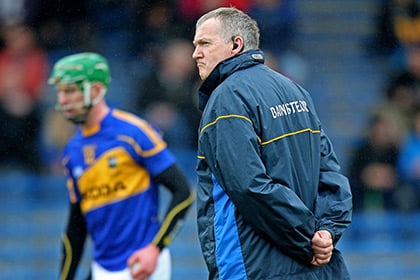 Tipperary manager Eamon O'Shea. INPHO
Eamon O'Shea expressed relief after Tipperary defeated Dublin to escape the relegation playoff and set up a quarter-final meeting with Cork.
"I thought the performance was really good," the Tipp manager enthused after his side secured only their second win of the campaign.
"I'm very happy for the players who have been under a lot of pressure to deliver, some of that being put on by themselves.
"We were edgy for the first two or three games of the league but I was really happy with that performance today because they've been working really hard. The response to the predicament we were in was hard work and that's my philosophy whether in sport or professional life; work as hard as you can and see where it takes you."
O'Shea insisted that Tipp always believed they could dig their way out of relegation trouble.
"The belief was still strong," he continued.
"We spoke during the week, didn't speak much but worked hard, got them to think more about performance than anything else, win those dirty balls.
"The players were quite confident, we set up to be solid and defensive. In good teams the players have to solve problems on the pitch and that's what you're seeing here. I'm trying to give a lot of responsibility to the players to address issues on the pitch as they arise.
"Sometimes that takes time to evolve but without that I think you don't become a really good team. I just want to say that this team is a solid team. Anybody that underestimates Tipperary, it's a mistake."
Most Read Stories