Reaction: Ryan makes no excuses
August 19, 2012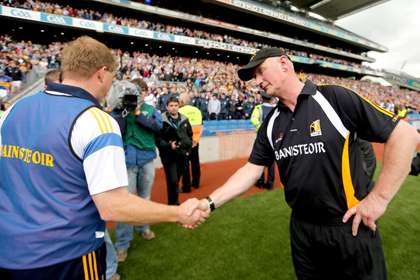 Tipperary's manager Declan Ryan and manager Brian Cody of Kilkenny at the final whistle INPHO
Tipperary manager Declan Ryan was making no excuses as he reflected on his sides 18-point All-Ireland SHC semi-final defeat to Kilkenny at Croke Park this afternoon.
The Premier County led by a point at the interval, and continued to stay with Kilkenny for the opening six minutes of the second half, until the Cats unleashed a performance Tipperary were simply unable to replicate.
"The better team won obviously by a mile," he said.
"We have absolutely no complaints today. I think we competed well for the first 35 minutes and then Kilkenny began to pick up all the breaking ball. They swarmed us in the second half and we really had no answer to their physicality."
Tipperary looked good after a 1-10 to 1-9 lead at the interval, following an unanswered 1-2 in the closing stages of the opening half.
Ryan was happy with his sides display at this stage, but couldn't pin-point what went wrong on the restart.
"We were very happy at half-time. Don't know what happened us, but we seemed to lose our shape in the second half and Kilkenny seemed to win every breaking ball there in the second half," he said.
"We got a couple of goal chances, and we would always pride ourselves on being good finishers up front, that if we got a couple of goal chances, we would take them. But Kilkenny were superior in that area today, they got a couple of goal chances and they stuck them away."
Tipperary began the second half with just 14 men after Lar Corbett failed to emerge from the dressing room in time for the throw-in.
Corbett and Tommy Walsh had a tough battle all afternoon, but Kilkenny's Jackie Tyrrell was also attempting to man-mark the Thurles Sarsfields star.
"Lar had been picked at number 12 and Tommy was playing at number five so I suppose you know, our ideal match ups, that was the plan that Lar would pick up Tommy. But obviously Jackie Tyrrell didn't agree," Ryan said.
"Tommy Walsh finished the game, and his last 20 minutes was probably his best spell in the game. I don't know how good he was in the first half. I think ultimately results prove that it backfired to some extent on us. No complaints today, best team won, full stop."
Ryan wasn't keen to be drawn on his future as Tipperary boss, at the end of his second year in charge.
"Myself, (and selectors) Tommy (Dunne) and Michael (Gleeson) had a two-year deal when we signed up and that's finished now so we'll have to wait and see what the County Board and the county chairman and the backroom team there as a whole say. Today isn't the day to be making decisions."
Most Read Stories