Franks bows out
November 15, 2012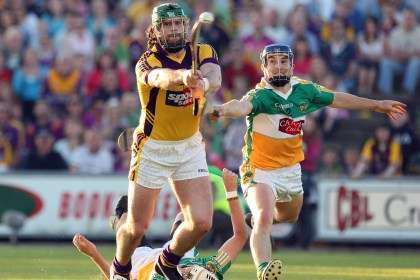 Wexford's Stephen Banville scores a goal despite the efforts of Offaly's David Franks in the Leinster SHC tie at Wexford Park
Offaly corner back David Franks has joined fellow Ballyskenagh native Brendan Murphy in announcing his inter-county retirement.
The 33-year-old's decision to hang up his hurl severs the last remaining link with the last Offaly team to play in an All-Ireland final in 2000. Franks, who has been playing his club hurling with Carrickshock in Kilkenny for the past number of years, commuted from Carlow for training and now intends to spend more time with his family.
His last game for the Faithful County was this summer's narrow All-Ireland qualifier defeat to Cork in Pairc Ui Chaoimh.
He told the Irish Sun: "The main reason (to retire) would be family life - I've a wife and two small kids - and I wanted to spend more time with them.
"Travelling to and from training would've been a big issue. I used to travel from Carlow to Tullamore for training, which would be 55 miles or so.
"So I'd leave work at 5.30, drive to Tullamore, train for two hours, get something to eat and by the time I'd make it home it'd be 12am or even 12.30. I've been doing that journey for 13 years and it takes a toll.
"I did consider coming back next year, but you have to realise the sort of training that will be involved and I'm getting older - I'll be 34 next year. When your time is up, your time is up."
Most Read Stories