IFC: Michaels finish strong and advance to semi final
September 26, 2017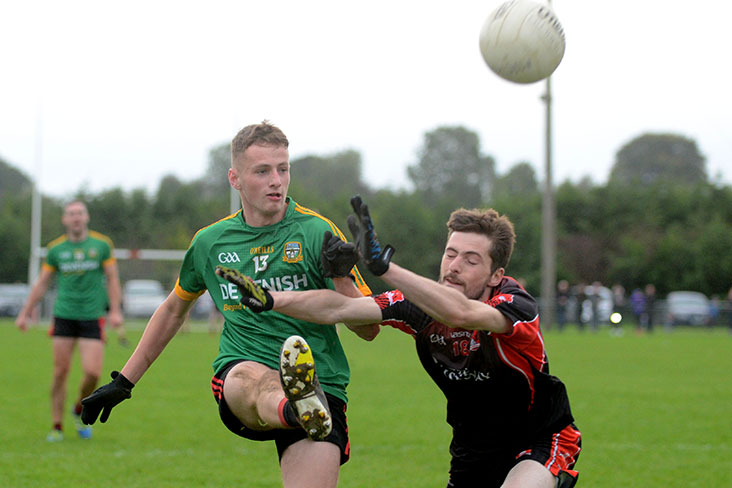 St. Michaels Ray Reilly shoots as Stephen Newman Kilmainham closes in during the Meath IFC quarter final at Moynalty
St. Michaels 1-12, Kilmainham 0-12  
  
St. Michaels who lined out in the green and gold of Meath finished with a blaze of points in the final five minutes of this Meade Potato Co IFC quarter final in Moynalty on Saturday evening last to secure their place in the semi-final in two weeks time.
St. Michaels made a cagey start and were guilty of a few misguided passes due mainly to Kilmainham retaining their own black and red colours and the Carlanstown Kilbeg side looked to be in real trouble at the end of the opening half as they trailed by two points having only registered two points in the final 18 minutes of the half.
Kilmainham opened the scoring in the third minute, Shane McDonnell cancelled out that point almost immediately, however Kilmainham added a further two points, one from a free before Ciaran Lynch swung into action with two pointed frees to level the match for the second time. Kilmainham stamped their authority on the game and added four unanswered points to go 0-7 to 0-3 in front on 27 minutes. But the dogged determination of the St. Michaels lads, Jamie Reilly in particular who forced a turnover on his own half backline which resulted in Ciaran Lynch landing a booming effort into the strong cross wind at the opposite end of the pitch. St. Michaels won the kick-out and fed Lynch again who made no mistake from 25m out to leave just two between the sides at the interval with Kilmainham 0-7 to 0-5 in front.                                                               
Kilmainham stretched their lead to three straight from the throw-in, however St. Michaels were on level terms three minutes later when the hard working Ray Reilly pounced on a loose ball after confusion arose in the Kilmainham square and he blasted to the back of the net. Kilmainham responded immediately with a point to go back in front but the wheels came off their wagon and they failed to score again until the 46th minute as they kept playing the ball over and back across the pitch and the tight marking St. Michaels defence protected their territory well and forced Kilmainham into many handling errors.
Points from David (1) and Ciaran Lynch (2) put St. Michaels into a 1-9 to 0-11 lead with 8 minutes left on the new Moynalty scoreboard. Kilmainham lost their ace marksman Michael Newman through injury and Oran Meehan made his anticipated appearance for St. Michaels and his introduction for the final 11 minutes may have inspired his team-mates as their work rate increased which resulted in Ciaran Lynch, Shane McDonnell and Ray Reilly all pointing in the final five minutes. Kilmainham rallied and reduced the deficit to just a single score, however there was no time left for them to secure a badly needed goal. St. Michaels now meet their neighbours Nobber in the semi-final.                                                                                                                                                                                                                          St. Michaels team and scorers: Darren O'Connell;  Ronan Cassidy, Jamie Reilly, Sam Briody; Christopher Drew, J.B. O'Reilly, Matthew Halpin; Peter O'Connell, Felim O'Reilly; Shane McCormack, Ciaran Lynch (0-7), Ronan Lynch (0-1); Ray Reilly (1-1), David Lynch (0-1), Shane McDonnell (0-2).
Subs: Mark Stafford for J.B. O'Reilly 45 minutes, Oran Meehan for Ronan Lynch 53 minutes, J.B. O'Reilly for Ciaran Lynch 57 minutes.
Referee: Patrick Coyle.
Report and photo Pascal Reilly.
Most Read Stories