IFC: Michaels stunned in injury time
May 22, 2017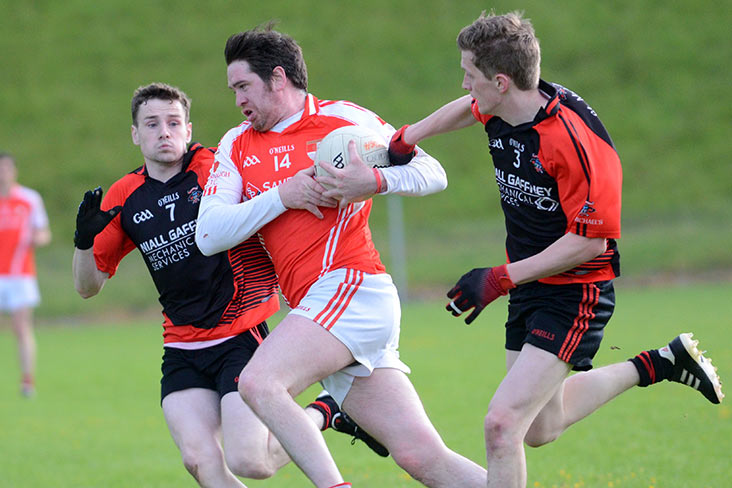 St. Michaels Christopher Drew and Jamie Reilly close in on Peadar Byrne Ballinlough during the Meath IFC game at Kilmainhamwood
Ballinlough struck two late goals to stun St. Michaels and grab an unlikely victory in the first round of the I.F.C. in Kilmainhamwood on Sunday evening.
Ballinlough  2-11 St. Michaels  0-16
With sixty minutes completed St. Michaels had what looked liked an unassailable lead; 0-16 to 0-10, but what unfolded in three minutes of injury time was truly remarkable as Ballinlough hit two goals and a point to grab victory from the jaws of defeat.
St. Michaels have showed impressive form so far in 2017 while Ballinlough have struggled with injuries and retirements; the teams occupied opposite ends of the Division 2 A-League.
All the signs were that the Carlanstown/Kilbeg outfit would prove too strong for the North Meath side, but the opening 30 minutes was quality championship fare as Ballinlough shuck off the burden of their poor league form and matched their opponent in most sectors.
The combination of Shane Mc Donnell and Oran Meehan in the St. Michaels full-forward line was a source of constant problems for the Ballinlough defence and both players kicked early points as the sides were level, 0-3 to 0-3, after 15 minutes, Tommy Mc Cullen and Peadar Byrne (2) were on target as the opposite end.
Ciaran Lynch kicked a free to push St. Michaels ahead, 0-4 to 0-3, but his direct marker; Sean Geraghty, was causing problems with his probing runs and he created an opening for Peadar Byrne to bring the sides level after 18 minutes.
Ronan Lynch and Peter O' Connell kicked points as St. Michaels moved the ball at pace but Byrne was proving a real handful in the Ballinlough attack, he kicked three points (all frees) before the interval and along with a good score from Ronan Mc Guinness, it ensured the sides were level; 0-8 to 0-8, at the switch of ends.
St. Michaels started the second half full of intent; as Ballinlough aided by the breeze pumped long ball into their forward line, with limited success. Mc Donnell and Meehan were growing in confidence and they shared four points as St. Michaels surged ahead; 0-12 to 0-9, after 39 minutes.
Short a few regulars and with a number of players only recently returning from injury Ballinlough appeared to be wilting and further points for St. Michaels from Ronan Lynch, Ciaran Lynch (f) and Phelim O' Reilly left Brian Donogues charges with a mountain to climb; 0-15 to 0-9, with only ten minutes remaining.   
Derek Muldoon entered the action and along with young midfielder Kevin Byrne he gathered some crucial possession in the closing stages. Peadar Byrne and Ciaran Lynch traded frees as the scoreboard read; 0-16 to 0-10, with normal time completed.
But instead of accepting defeat Ballinlough poured players forward, Tommy Mc Cullen kicked his second point and then his brother Mark contested a high ball with St. Michael's goalkeeper Darren O' Connell and the ball spilled into the net, after some debate referee Padraig Coyle awarded a goal. Only seconds remained and still two points separated the sides; 0-16 to 1-11, but from the resulting kick-out Ballinlough gained possession and Michael Geraghty charged through the heart of the St. Michaels defence and unleashed a powerful shot inside the post and beyond the despairing dive of Darren O' Connell.
The Ballinlough support celebrated wildly as St. Michael's launched one last attack but when defender Robbie Farrell made a perfectly timed tackle and the ball broke loose the final whistle sounded as Ballinlough earned a crucial victory.
Best for 'The Reds' were; Lorcan Gibney, Sean Geraghty, Kevin Byrne, Peadar Byrne and Ronan Mc Guinness.
Ballinlough: L. Gibney, B. Smith, E. Smith, R. Farrell, J. O' Reilly, S. Geraghty, L. Maguire, T. Mc Cullen (0-2), K. Byrne, M. Geraghty (1-0), M. Mc Cullen (1-0), J. Baugh, J. Tunney, P. Byrne (0-8, 6f), R. Mc Guinness (0-1). Subs: D. Muldoon for O' Reilly.
St Michaels Report
St. Michaels 0-16, Ballinlough 2-11        
Ballinlough delivered a stirring finish as two goals in injury time gave them a dramatic victory over a shell-shocked St. Michaels side in Kilmainhamwood on Sunday evening.
The winners had been scrambling for scores for the entire second half having registered just two points (1f) in a 30 minute spell despite a very committed approach and as their supporters headed for the exit gate with their team staring defeat in the face at the end of normal time they threw caution to the wind.  A point in the first minute of injury time left them trailing by five points, then came a somewhat debatable goal in the second minute of injury time, a high ball into the St. Michaels square ended up in the net as the St. Michaels 'keeper Darren O'Connell and the ball were shunted over the line for their first goal, following consultation between referee Padraic Coyle and his two umpires the "goal" was allowed to stand and from the resultant kick-out which was won by Ballinlough, they set up another attack which resulted in an unstoppable shot to the back of the net to leave their opponents stunned at the final whistle.

Shane McDonnell opened the scoring with a point after 40 seconds, Ballinlough replied in kind three minutes later and while the football on view may have been far from perfect on occasions the large crowd remained engrossed as the clashes were hectic, the football direct and both sides produced some excellent scores from play with the sides level on four occasions and at 0-8 apiece at the short whistle. Ciaran Lynch (0-3), Oran Meehan, Peter O'Connell, J.B. O'Reilly and Ronan Lynch (0-1 each) were the others to get on the St. Michaels scoresheet in that opening half.                                                                                                                                                                                                                                     
Oran Meehan got the second half off the mark after linking up with McDonnell for the opening point of the half, Ballinlough replied three minutes later to level matters for the fifth time but they failed to score again until the 50th minute when they fired over from a free. St. Michaels were now controlling matters in nearly every position on the well manicured Kilmainhamwood pitch and were 0-16 to 0-10 to the good as the game entered injury time but as the St. Michaels players now know, it ain't over 'til the fat lady sings. When their opponents struck for those late scores they had little opportunity to respond, but truthfully when they reflect on this game they will question how in God's name did they let slip two valuable points that were in their bag at the end of normal time.                                                                                                              
St. Michaels: Darren O'Connell;  Alan Reilly, Jamie Reilly, Mark Stafford; Ronan Cassidy, Matthew Halpin, Christopher Drew; Peter O'Connell (0-1), Felim O'Reilly (0-1); J.B. O'Reilly (0-1), Ciaran Lynch (0-5), Ronan Lynch (0-1); Ray Reilly, Oran Meehan (0-3), Shane McDonnell (0-4).
Referee: Padraic Coyle                                                                                                                                                                                                                 
Report and photo Pascal Reilly.
Most Read Stories