SFC: Impressive St. Pats
May 22, 2017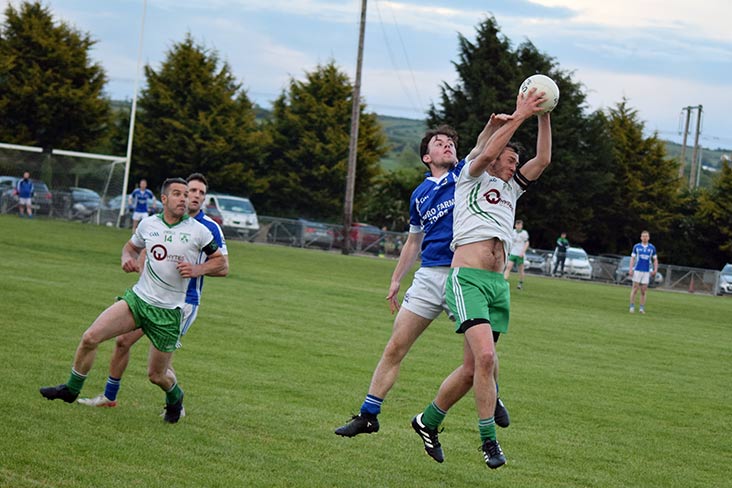 St. Pats recorded a fine win over Skryne in the opening round of the SFC at Duleek.
St Pats got the 2017 senior football championship off to a winning start with an impressive 2-16 to 1-10 win over Skryne in Duleek Friday night. It was an emotional evening with the sad passing of Peter Russell during the week. Peter was an ex player, committee member and father of Pats senior manager, Niall Russell.
Pats got off to a slow start, with Skryne getting the upper hand in midfield, made that count by rushing into a 4 point to no score lead after 10 minutes. Niall Mooney got Pats off the mark with a well taken point. The two teams then traded three points each for the reminder of the half with Shane landy (2) and Dee Quinn pointing for Pats. It could have been much worse only for two fantastic saves from Pats keeper Bobby Cluskey leaving the half time score at 7 points to 4.
With the game in the melting pot at half time the second half really took off with the two teams trading two points, Alan Vickers and Shane Landy pointing well for Pats.
Skryne then got a lucky goal when the forward kicking for a point found his shot dropping short and over Cluskey into the net leaving Skryne 6 points ahead. It was after this that Pats really got going and went on a surge to eat into the lead with Shane Landy, Dee Quinn, Niall Mooney and Neil o'Flaherty all pointing well and some terrific blocking from Adam Byrne and David McQuillan leaving Pats 3 points ahead with 5 minutes remaining.
Then Pats hit two killer blows with goals from Shane Landy and Aaron Kenna. The first coming after a terrific run from Michael McNulty laying the ball off for Landy who slotted home well and just moments later Niall Mooney won possession and played a great ball into space for the speedy Aaron 'Jinxy' Kenna to get on and finish well after being taken down initially.
Final Score: Pats 2-16 Skryne 1:10
St Pats: R. Cluskey, M. McNulty, D. McQuillan, A. Byrne, A. Vickers (0-1), S. Dowling, D. Stafford, B. Mooney, J. Curtis, D. Quinn (0-5), D. Hagan, D. Landy, S. Landy (1-4), N.Mooney (0-4) N.O'Flaherty (0-2) Subs A.Kenna (1-0) for D. Landy
Most Read Stories