IFC: Second half rally earns Nobber a share of the spoils
May 22, 2017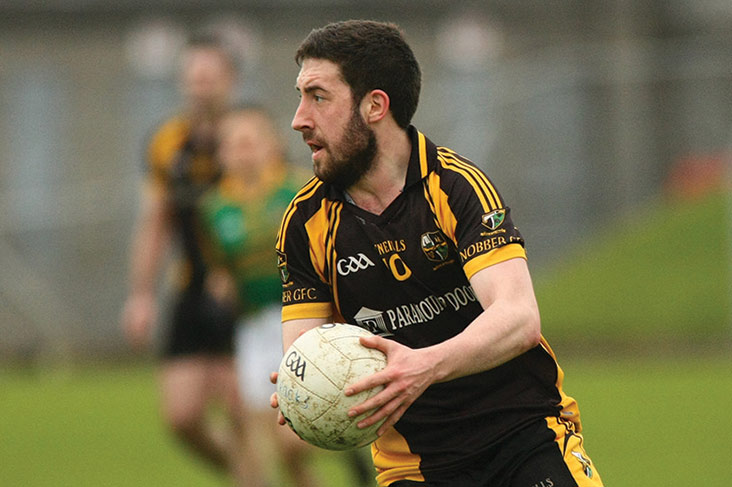 Nobber's Dale Larkin
Nobber 2-12   Donaghmore/Ashbourne  1-15
Behind by 7 points at the break Nobber put in a much better second/half performance to come away with a share of the spoils.
Indeed entering the last minute they found themselves one ahead but a decision to award a close in free to D/A put paid to their chances of victory.
The award of this free was all the more baffling as no Nobber player was near the supposed fouled player.
Donaghmore Ashbourne had the best of affairs in the first half and led by 7 after 14 minutes with Nobbers first scores coming in the 15th from Sean Meade and  Karl Casserly 1-1. 
Meade was to the forefront in setting up Casserly for his goal after beating several defenders in a wonderful run towards goal.
Following this brief spell of Nobber dominance Donaghmore took over again converting a 23rd minute penalty and with 2 further points turned over 1.09 to 1.02 at the break.
The Moores were again first out of blocks after the restart stretching their lead to 8 in the 31st minute.
But whatever was said in the Nobber dressing room at half time kicked in with them outscoring their opponents 1.10 to 5 points in this second period.
Nobber played some great football in this half showing their true worth proving they can be a force in this years championship.
With all sectors working well Casserly scored a further goal, Sean Meade and Brian Meade 2 points each the Farrell brothers Alan and Niall 1 each and just returned from injury  sub Dale Larkin hitting 4 crucial points.
Nobber scorers: Karl Casserly 2-1, Dale Larkin 0-4, Sean Meade 0-3, Brian Meade 0-2, Niall Farrell and Alan Farrell 0-1 each
Nobber: B McEntee, E Fagan, P Meade, B Cassidy, B Heffernan, S O Brien, J Condra, A Farrell, N Farrell, F McEntee, G Campbell, B Meade, D Lambe, K Casserly, S Meade,
Subs: Thomas Murtagh for Campbell (black card), Dary Hutchinson for B McEntee, Dale Larkin for Lambe
Most Read Stories