SFC Group B: Great start for Moynalvey
May 21, 2017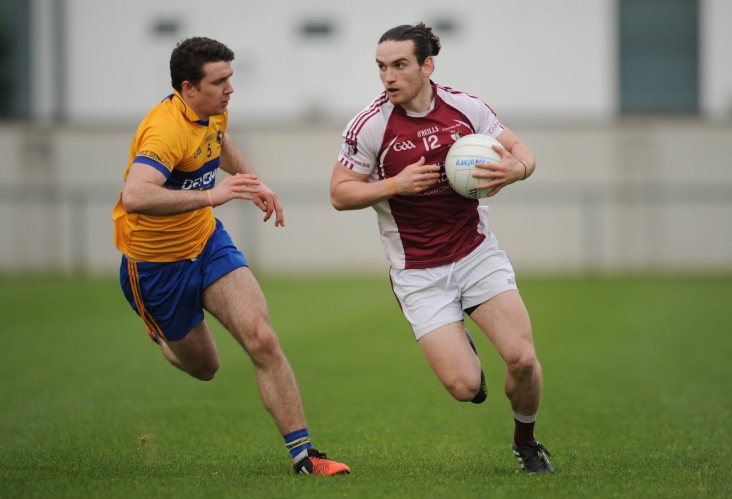 Moynalvey's Cillian O'Sullivan gains possession as Seneschalstown Niall Hickey closes in during the opening round of the Meath SFC at Trim
Moynalvey withstood a stern test from Seneschalstown in this Fairyhouse Steel Senior Championship Group B 1st Round game played at Trim on Friday night 19th May.

Moynalvey 0-17 Seneschalstown 1-9

The sides had met in the League six weeks ago where there was a sixteen points difference between the sides. However the Championship is a different ball game altogether, with the low winning margins of most of the SFC first round games played over the past few days reflected in this game also.

Nothing could separate the sides in the first half as the sides went in level 1-5 to 0-8 at the break. Moynalvey clocked up an early three point lead with scores from David McLoughlin (3) and the impressive Anthony Forde. The game's only goal came in the 15th minute when Joe Sheridan's strength saw him hold off Moynalvey full back Rob Lawless with one hand while fielding the ball with the other, before rifling to the top corner of Moynalvey goalkeeper Conor Egan's net from an acute angle. Both sides's added 0-4 apiece before the half time whistle, with Moynalvey's points coming from Cillian O'Sullivan (2), Anthony Forde & David McLoughlin, while Joe Sheridan (3) and Bryan Clarke accounted for Seneschalstown's scores.

Brian Sheridan edged David Hosie's men in front again when pointing three minutes after the restart, however this proved to be Seneschalstown's last score until the 58th minute as Moynalvey scored seven points without reply during this period. Moynalvey's scorers were Padraic Harnan, Fearghal McCabe, Anthony Forde, David McLoughlin (2) and Mark O'Sullivan (2) with two booming points from way out on the right wing. Joe Sheridan eventually broke the Seneschalstown scoring drought in the 58th minute with a snap shot while surrounded by Moynalvey defenders which just cleared the cross bar. Two more points saw them come within a single score of Moynalvey, 0-15 to 1-9 just as the hour mark passed.

Robert Lawless and Cathal McCabe coped with any aerial threat Seneschalstown threw at the them in the final minutes as the Yellow Furze men went in search of that elusive second goal, especially the two Sheridan brothers Joe & Brian, who had accounted for 1-6 of their side's 1-9 total.  

Another huge point from Mark O'Sullivan and one from substitute Adam Murphy, which just as easily could have gone underneath the crossbar as over saw Moynalvey wrap up the two points to record their first win in an opening round Group game in the SFC since returning to the Senior Grade in 2012.  

Best for the winners were Cathal McCabe, Robert Lawless, Anthony Forde and David McLoughlin.

Moynalvey: Conor Egan, Conor Harnan, Robert Lawless, Cathal McCabe, Padraic Harnan (0-1), Stephen Donoghue, Anthony Forde (0-3), Donal Smith, John Donoghue, Mark O'Sullivan (0-3), Daniel Treacy, Cillian O'Sullivan (0-2, 2f), David McLoughlin (0-6, 3f), Fearghal McCabe (0-1), Darren Brennan.
Subs used: Eamon Walsh for J. Donoghue, Adam Murphy (0-1) for Treacy.
Seneschalstown Report
Seneschalstown 1-09 Moynalvey 0-17
Having come through the group stages of the 2016 Meath SFC unbeaten before losing out to Donaghmore/Ashbourne in the quarter final, hopes were high in Seneschalstown that they could get their 2017 campaign off to a bright start on Friday last only for Moynalvey to prove to be the rock on which these ambitions floundered.  
In excellent conditions for a game, with the Trim playing surface as always in pristine condition, the fare of football on display provided good value for money for those in attendance with some excellent defensive play, high fielding and accurate shooting on display.
For the winners, two members of Martin Ennis' hurling team were in sparkling form as Anthony Forde and Mark O'Sullivan caused Seneschalstown endless trouble while for the defeated side Meath substitute goalkeeper Joe Sheridan showcased that he is still a force to be reckoned with outfield as he fired a goal and three points while elder brother Damien pulled off some excellent catches around the middle third.  
It was though a power packed second half display from the south Meath side which proved to be the decisive turn in the game as they put the defensive shackles on Seneschalstown and found their shooting boots as they attacked the town end of the pitch.  Mark O'Sullivan was a key operator in this spell as his powerful running caused Seneschalstown issues as well as his accurate shooting, three points were landed off his right boot, each one better than the one before.  
For Seneschalstown the loss in the opening half through injury of Adam Carey was a big blow despite the impressive showing of Niall McCabe who came on in his stead as Carey certainly possesses the pace which can trouble any defence.  
A fifteenth minute rocket of a goal from Joe Sheridan who held off the full back with one hand as he caught the ball with the other before firing across the goal and into the right corner of the net was the highlight of the opening half from a Seneschalstown point of view and helped to ensure that the two sides retreated to the sanctuary of the dressing rooms on level terms, Cathal Finnegan, Brian Sheridan, Bryan Clarke and Joe himself with two points raising the white flags for Seneschalstown, 1-05 to 0-08.  
Brian Sheridan opened the scoring for the second half with a pointed free but from there on Moynalvey took charge of the scoring with O'Sullivan and David McLoughlin leading the charge for the men in maroon before Joe Sheridan, Robert Wogan and Brian Sheridan completed the Seneschalstown scoring.
Seneschalstown: David Gordon, Conor Cowley, John Smith, David Matthews, Niall Hickey, Cormac Noonan, Gary Conlon, Sean Noonan, Damien Sheridan, Adam Carey, Joe Sheridan (1-03), Niall Groome, Cathal Finnegan (0-01, 0-01 Free), Brian Sheridan (0-03, 0-02 Frees), Bryan Clarke (0-01).
Seneschalstown Substitutions:  Niall McCabe for A. Carey, Brian Maguire for G. Conlon, Robert Wogan (0-01) for C. Finnegan.
Most Read Stories