IFC: No joy for Junior champions
May 21, 2017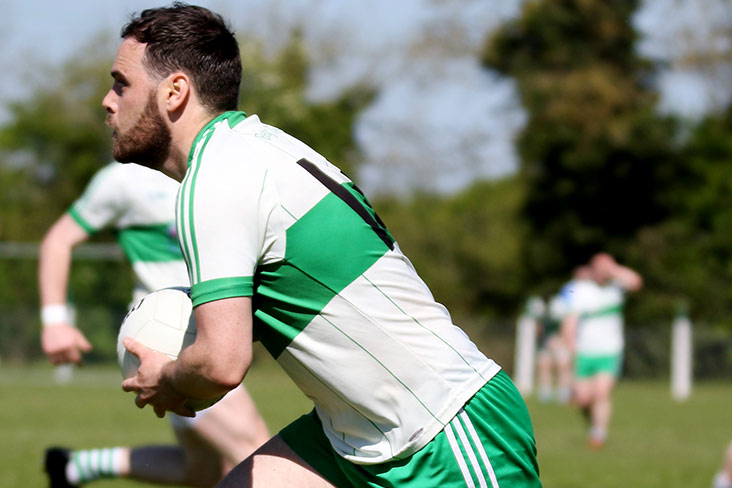 Bective's Sean Keating
Ballinabrackey 1-12, Bective 0-12
Bective have begun this Intermediate championship campaign with a loss to a tight marking Ballinabrackey side in a well appointed Longwood pitch on Friday evening. 
Although this was a very competitive and enthralling contest right up to the last gasp goal attempts from Bective players, who always felt they could win, it was the greater experience of the Ballinabrackey team that saw them get over the line with 1-12 to 12 points. Ballinabrackey displayed tighter marking and tackling ability and carried the ball well into attack to set up scores, and in particular "Man of the Match" Damian Carroll with some fine fielding and hard running, but Bective showed plenty of fighting spirit and no shortage of skills to keep the game alive until the last kick.

Bective, playing into the uphill goals, were 3 points behind after 10 minutes until Paul Mc Cabe pointed a free kick to steady the ship. The teams traded points until half time with scores for Bective from Ciaran Breslin, then 3 great points from Sean Keating, and another point from Ciaran Breslin and one from half back Dara Maguire.  Although Ballinabrackey were the more threatening in attack and seemed to create more scoring chances they only led with 8 points to Bective's 7 at half time.
Bective, now playing into the clubhouse goals, levelled and kept abreast in the scoring with 2 pointed frees from Marty Mulhall and 1 from Paul Mc Cabe. However the defining moment of this game came with 10 minutes remaining when a Ballinabrackey long free floated into an inadequately protected Bective square and the ball was not secured and dropped to the experienced Carroll to push to the net.  Bective now were chasing the game and attacked with good possession and runs from Colin O'Rourke, and substitute Mark O'Brien who scored a point, but Bective still found little free space in front of goal due to intense Ballinabrackey tackling. 
Both teams missed 3 or 4 point chances before a last ditch attack from a Marty Mulhall run released Sean Keating to shoot low but his blocked shot provided substitute Brian Cantwell with a half chance which struck the side netting.  Time had run out for Bective in this highly entertaining and well refereed contest played in true championship style. 
On a down note, is it fair to players, and does it undervalue the championship, to fix games for weekday evenings, as some players leave for work at 6 a.m. or sit college exams up until 5 p.m. and have to beat the traffic, eat and be prepared for a championship match?

Bective: Ronan Murtagh, Ben Malone, Jack Grant, Cillian Reilly, Dara Maguire, Jarlaith Brennan, Colin O'Rourke, Ciaran Reilly, Paul Lyness, Kevin Brennan, Cathal Mc Connell, Ciaran Breslin, , Marty Mulhall, Sean Keating, Paul Mc Cabe and. Subs - Mark O'Brien, Brian Cantwell
Most Read Stories