SFC Group C: Pats finish with a flourish
May 20, 2017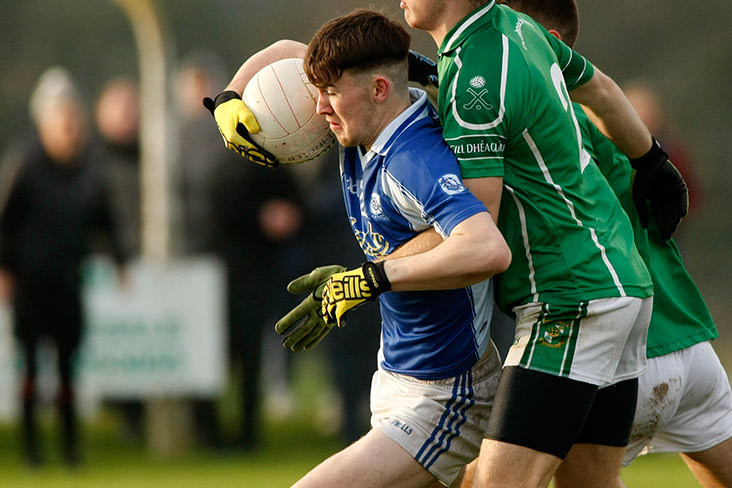 Skryne's Darragh Campion
St. Patrick's 2-16 Skryne 1-10
St. Patrick's Stamullen ran riot in the last ten minutes of this first round Senior Football Championship match played in Duleek in ideal conditions for football. The result of this match centred on the first 15 minutes and the last 15 minutes with obviously very contrasting scorelines.
The first fifteen belonged to Skryne and they powered into a five points to nil lead. But that doesn't tell the whole story as apart from the five points taken there were at least another five missed. Add in three goal chances that went abegging and everybody could see that this could come back to haunt them later in the game.
Fast forward to the last fifteen minutes and that's exactly what happened with Skryne still three points ahead - this is where St. Pats take over. Behind by 0-10 to 1-10 the Stamullen men proceed to score 2-6 without reply. Admittedly their two goals were the last two scores of the match but even with the six points alone they had forged three clear and fully deserved their victory. The two late goals were just the icing on the cake.
For the Blues this was a most disappointing performance particularly when St. Pats applied the pressure midway through the second half. At this point their passing, ball handling and most worrying their fighting spirit all took a drastic turn for the worst.
They were unlucky to lose goalkeeper Ian Gillett to injury in that second half and they had good displays from Eoghan Greene and Mark Jordan in defence while upfront Darragh Campion and Bryan Davis could not be faulted.

Skryne - Ian Gillett. Eoghan Greene, Mark Harrington, Mark Jordan. Paddy Carpenter, Ciaran Lenehan, Adam O'Sullivan. Aidan Tuite, Patrick O'Rourke (0-1). Eoin Smyth, Bryan Davis (1-3), Darragh Campion (0-4). Paddy Fox (0-1), Mark Battersby (0-1), Jason Fox. Sub: Des McAvinney.
Most Read Stories